Mackerel Fishing – A Maine Tradition
by Tom Seymour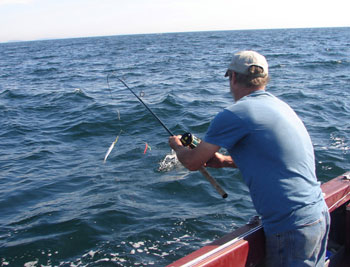 "The Mackerel are in," four short but welcome words that Maine coastal residents anxiously wait to hear each summer. Atlantic mackerel, sporty on light tackle, willing biters, delicious when drizzled with lemon juice and broiled on a grill, have everything to recommend them.
And boy, do Mainers love their mackerel. Even those living far inland make the annual trek to the coast to catch a mess of tasty mackerel. In addition, visitors from other states find mackerel fishing fun, exciting and rewarding. Mackerel are everybody's fish.

Anyone with even a small, trailerable boat can find great mackerel fishing by launching at any of dozens of public landings in cities, towns and villages up and down the coast of Maine. These are indicated on DeLorme's The Maine Atlas and Gazetteer.

Since these pelagic (mackerel spend winters off the Atlantic Shelf and enter near-shore areas in late spring and early summer) fish congregate in protected coves and harbors, most any seaworthy boat will suffice. Of course during stormy or very windy weather, even these sheltered areas can become treacherous, so it pays to keep watch of the weather and only venture out during times of relative calm.
Trolling Tips
Trolling, a time-honored fishing method, serves as a dependable method of taking mackerel. And while many old-timers used heavier-than-necessary tackle, mackerel perform best on light or medium-weight fishing gear. In fact, a 12- to 14-inch mackerel puts up a fight very similar to a landlocked salmon of a similar size. Mackerel don't jump, but they do make fast, powerful runs and like salmon, do not tire easily.
When trolling for mackerel or any other fish, the problem of line twist demands attention. Basically, the side-to-side and sometimes swirling motion of trolling lures quickly twist a monofilament fishing line in short order. To circumvent this when using mono line, always attach a rudder, available in any tackle shop, a foot or two ahead of the trolling lure.

Fly rods work superbly for trolling for mackerel. Using a sinking line and a leader about the length of the rod keeps line twist to a minimum, since fly lines have sufficient thickness to resist twisting. And when the leader does become twisted, simply raising the rod and holding the lure out of water allows the line to quickly unwind.
Any lure that works when trolling for trout and salmon will serve admirably for mackerel. The list includes streamer flies, Mooselook Wobblers, Kastmasters and even Swedish Pimples, a jig designed for both vertical jigging as well as trolling.
Speed matters when trolling for mackerel. The perfect trolling speed differs from day to day. Sometimes, a slow crawl works best and other times, mackerel prefer that a lure or fly go at a relatively fast rate of speed. To find that "just right" speed for any particular day, try going just fast enough that your rod tip bobs or undulates in a regular, steady rhythm. Then adjust speed up or down accordingly, as needed.
Finally, lots of folks fish with "Christmas trees," pre-made rigs (most convenience stores in coastal Maine and all sporting goods outlets sell these) with a wobbling spoon or mackerel jig on the end, with three, four or five mackerel flies ahead of it, attached on a series of dropper lines.
The trick, when using one of these rigs, is to get all the hooks full. Doing that requires not reeling in the first fish hooked, but instead allowing it to swim about, thus attracting other mackerel which in turn, bite on the mackerel flies.
Reeling a Christmas tree filled with mackerel takes some endurance, but it serves as a good way to take lots of mackerel in a short time. But for the most sport and fun from a mackerel, stick to a single lure or fly. When multiple mackerel are hooked at the same time, they fight against each other, but when one mackerel is hooked, it has the freedom to put up just the best, most sporty and action-packed fight.
Finally, mackerel have soft, oily flesh and spoil quickly if not properly cared for. So immediately upon removing the hook, place that just-caught mackerel on ice in an ice-filled cooler, specially designated for holding fish. After that, eviscerate and clean the fish as soon as practicable. This ensures a perfectly fresh mackerel, one that will elicit "oohs" and "ahh's" when grilled or broiled.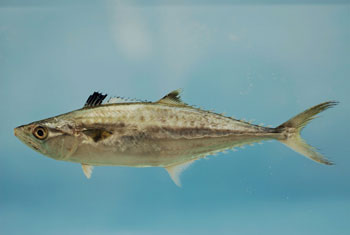 Shore Fishing
For those without access to boats or who don't care for boating, plenty of opportunities exist for mackerel fishing from shore. Many coastal communities allow public assess to floats and wharves, specially-designated places set aside for recreational fishermen. Such places are usually marked as such. If not, make sure to inquire before venturing out.

Additionally, breakwaters offer excellent fishing. Two popular ones are the Rockland Breakwater and the Eastport Breakwater. And one town, Belfast, even has a footbridge to accommodate both walkers and anglers. Searsport has a public pier where boaters, both recreational and commercial can tie up and where people are welcome to cast for mackerel. Stockton Springs has a fishing pier located at Fort Point State Park. The list of places where the public can cast for mackerel is long.

Several different methods work well when fishing from shore. Casting a mackerel jig, allowing it to sink and then quickly reeling it in, attracts fish from afar. But often, mackerel swim close to shore and in many cases, schools of fish hold around and even beneath, docks and floats. When that happens, vertical jigging works best.

To do this, just let either a Swedish Pimple or a Diamond-style mackerel jig straight down along the float and if it hits bottom without being intercepted by a mackerel, raise it up a foot or so and impart action by lightly raising and lowering the rod tip.

Mackerel, being school fish, become greatly excited when one of them gets hooked and we can use this to our advantage when vertical jigging. Upon landing a fish, immediately place it in an ice-filled cooler and get the jig back down to the same place as quickly as possible. This holds the fish's interest, which often results in nonstop action for as long as the school remains in place.

Bait works well here too and tiny bits of fresh or frozen shrimp rank as top choices among seasoned mackerel fishermen. Use a small hook, numbers 6 and 8 being a perfect size. Thread only a small bit of shrimp on the hook and cast out and let the bait swirl around with the current. This makes for a natural presentation, one which mackerel eagerly accept.
If fish don't go for bait floating just under the surface, it may be necessary to add a small amount of weight. But don't go overboard here. Use just enough weight so that the bait slowly sinks.

Besides shrimp, cut bait works quite well, but it takes some care to prepare. A heavy chunk of fish flesh has little fish appeal. But a slender, thin slice of flesh, skin on, wriggles and undulates in the water and mackerel and also, pollock, bite it with relish.

To prepare a strip of bait, take a freshly caught mackerel and with a razor-sharp fillet knife, make two long slices, spaced only 1/4 inch apart, the length of the fish, just above the ribcage. Then slide the point of the knife beneath the skin and remove the long strip intact. Now cut into inch-long sections and hook only once, at either end of the strip, so that it dangles.
Mackerel Cookery
Mackerel contain lots of oil, so pan frying does not make for the best product, since the oil has no place to go and remains in the flesh. But grilling or broiling allows the oil to drop away and in the case of grilling, the oil falls on the heat source, wreathing the fish in a delightfully aromatic smoke.
Mackerel come in all sizes, from diminutive, young, 8-inch "tinkers" to 16-inch adults. Small mackerel can be cooked whole. Just eviscerate, remove the head, rinse in fresh water and cook. Larger fish can be split, butterflied or even filleted.
Splitting a large mackerel requires only sliding a fillet knife along the backbone, from just behind the head to the tail. When cooked, the section where the backbone remains makes for nearly bone-free eating, since the backbone and attached bones lifts quite freely from the cooked product.
Seasoning, such as Old Bay or similar types, adds spice to fresh mackerel. But for a plain, yet elegant mackerel, just shake on salt and pepper and then drop some lemon juice on the fillets or in the body cavity. Then grill or broil just until the meat flakes easily with a fork.
Finally, tin foil cookery works well with whole mackerel. Drizzle with lemon juice (or insert a slice of lemon in the body cavity), season with salt and pepper and if available, sprinkle with fresh, chopped dill leaves. Then wrap in aluminum foil. Prick the foil on the bottom to allow oils to drain while cooking and place on the grill. Cook at low heat for 10 minutes or even more, since the fish won't burn because it is wrapped in foil.
Mackerel are as much a part of a Maine summer as newly cut hay, new potatoes and wild blueberries. Make sure to try mackerel this year. It may well be the start of a cherished tradition.
So when the cry, "the mackerel are in," echoes down the street, grab a rod, reel, lures, cooler and head to the water to partake of this great, natural event.