Fishermen Support Island Limited Entry
by Laurie Schreiber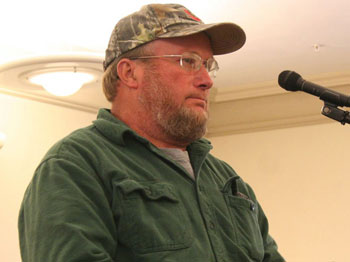 A handful of lobster fishermen showed up at a Department of Marine Resources (DMR) hearing on a proposed limited entry program for Chebeague Island, Cliff Island and the Cranberry Isles.

They all supported the proposal.

"We're in favor of this," said Dave Thomas of Cranberry Isles. "We've been talking about this four or five years. Change in government, change in commissioner – change is everything. We're glad it's come this far."

"I feel strongly that whatever island it is should have whatever licenses they want," said Ken Lemoine of Swans Island.

According to the DMR's summary, the proposed rule would establish an island limited-entry program for the three islands in order to maintain a number of licenses appropriate for the needs of their island community and the local lobster resource. The three islands have held island limited-entry referenda, which supported the proposed rule. The rule would set the number of island resident lobster licenses for Chebeague at 31 licenses, Cliff at 12 and Cranberry at 23.

The proposed rule would also eliminate the Mohegan Island apprenticeship program. According to the DMR's summary, license applicants wishing to enter Mohegan's limited entry program would need to meet the requirements of the exiting apprentice program. The rule also increases the trap limit from 300 to 400 to those registered in the Monhegan Lobster Conservation Area. The rule would add Monhegan as one of the eligible islands for the Island Limited Entry program.

The public hearing was held June 4 in Ellsworth and June 6 in Portland. The deadline for comments was June 18.