Fishermen's Forum is
a Father/Son Affair
by Laurie Schreiber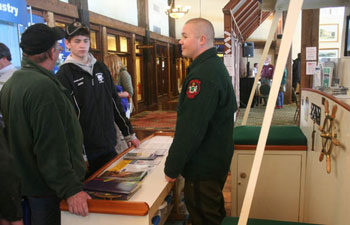 Fifteen-year-old Avery Jones was "a man of few words," but he did say he was happy to be attending the Maine Fishermen's Forum with his dad.
Paul Jones laughed as he described his reticent son to an inquiring visitor, and he agreed that there seemed to be quite a few father/son pairings at this year's forum.
Father and son had stopped at the Maine Marine Patrol's display station for a moment between fishery seminars on Saturday morning to talk with Marine Patrol Officer Matt Wyman about fishing regulations.
Avery serves as his father's sternman on the lobster boat they fish out of Cundy's Harbor. He's had his student license since he was 10 or 11 years old. He's almost ready to get his regular commercial license, Paul said.
And he's attended the forum with his father for a few years now. Avery said he likes to learn about what's going on in the fisheries and see the different products at the trade show. He hopes to get his own boat at some point.
For many fishermen, the profession goes back generations in their families. But Paul is a first-generation fisherman who got into the industry 30 years ago.
"I just grew up with a lot of guys who had family members in the fishing business," he said. "I just hung around a lot with them and got into it."
And the profession is well worth passing down to his son, he said.
"I just hope he can go fishing," he said. "And if he does go, that he can make a decent living. It's also a good lifestyle; it's more than just making money. Maybe there will be some other fisheries that will open again that he can do, too."