Brooks Trap Mill.
A Family Business, 65 and Growing.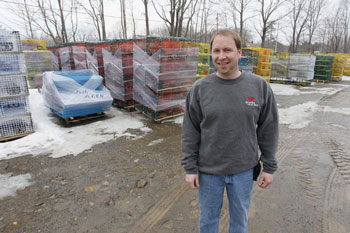 Sam Murfitt spoke with Stephen Brooks and asked about how the business started and how it has change.
My grandfather started Brooks Mill in 1946, so I'm third generation.
My brother Mark, my sister Julie and I run the business. My father passed away in November, so we and my mother, who still works here, are the only family left.
We used to be all wood, building only wooden traps. But we have obviously evolved into the wire trap. We haven't built a wood trap for a few years. So wire is where it's at now and you know, the trap is still pretty much the same as it used to be as far as the heads and how they fish. One difference is that there are a lot of different sizes now and colors.
The good thing is that the lobster stock is very healthy. I think it's as good as it's ever been. That has a huge impact on the industry and obviously directly affects Brooks Trap Mill. I think the stock will be pretty strong for a long time.
Potentially, 2010 saw the largest volume of lobster ever caught in Maine. So the stock is very good, and the juvenile stock is exceptional. I've heard some people say they've never seen it as good as it is. So barring any disease or anything like that the industry should be very strong for a number of years.
As long as the overhead doesn't get overpowering. You've still got to get to an okay price — it is very important.
Fuel and bait are what really make it. These are obviously important for the fishermen because that's where their overhead comes into play. So you can catch a million pounds, but if your overhead's too much you're not putting any money in your pocket. So those are things that will be determining future profitability.
Our customer base has definitely been growing substantially because the fishermen had such a good year. The whole state benefits from this. The fishing industry in Maine is huge — lobstering that is. A lot of other fisheries have gone the other way, and are struggling, if they're still around at all.
Our markets have spread too. We'e into Canada, New Hampshire, Massachusetts, Rhode Island, Connecticut, and New Jersey. So it's really a big market when you put it all together and there's probably fewer lobster trap companies than there were, five years ago, six or seven years ago. Some have faded away and now that the markets are coming back there are fewer trap companies to meet demand. So we're exceptionally busy right now. How long it will last, we'll see, but hopefully it lasts for a while."
Sam: Have you seen a change in traps, like cement runners or different things?
The industry has — there's been some things that have changed for sure. There are more options now than there have ever been. It's incredible, from colors, to different size wires, meaning twelve-gauge, ten-gauge. There are cement runners, oak runners, jungle wood runners, pressure treated runners, plastic runners. That's just one item that goes on a trap. For the heads you have eight different colors of shrimp mesh.
There are a lot more options on a trap now. The wire comes in four, five, six, seven, eight different colors. Heads all different colors. Every part on a trap now comes with multiple options. It makes inventory really tough because we inventory ten times what we used to have to inventory. It's a huge change and an expensive one.
Sam: Is your manufacturing more mechanized than it used to be?
As much as we can, yes. Our wire shears are all computerized. You just punch in how many meshes you want the piece of wire to come out and the shear does it. All our worker needs to do is literally, stack the wire, bundle it up, and put it on a pallet. Things have come a long way that way. I can remember hand-cranking a roll of wire out and cutting it with a shear or air snipper.
Sam: Do you see any big changes coming in traps?
We've done a lot of experimental traps for different fishermen and there's some very unusual stuff that we've done, but it never really sticks. It seems everybody still slides back to the standard or original set up of a lobster trap, with maybe a few different changes. They may have their head a half-inch higher than the next guy or a larger opening in the center rear head, or a hoop versus a hake-mouth, but the basic set up is still where it was in the beginning. So there's not a lot of changes. In the end, most circle back around and end up where they started. The vent sizes have changed, they've increased over time.
Back to the health of the lobster resource, we put so much feed on the bottom. I mean, even if lobsters get pulled up in a trap they're immediately thrown overboard if the fishermen can't keep them. What are the lobsters going to do when they get down to the bottom? Go back to the trap that was just thrown down. A lot of fishermen, when they haul their trap up and their bait is not gone, they dump it over the side. So you have not only all the bait in all the traps, but the left over bait. The lobsters are eating quite well until we eat them.