F I S H E R M E N   O N   F I S H I N G
David Oshier –
A Bremen Fishing Family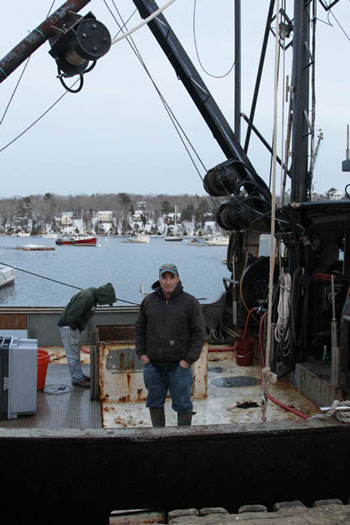 David Oshier is from a Bremen fishing family that he says goes back as far as anyone can remember. He operates five fishing boats and belongs to The Sustainable Harvest Sector out of Portland. He has owned a dock in South Bristol Gut for the last 12 years. His family has another dock in Bremen. Oshier's multigenerational fishing family has worked in most Gulf of Maine fisheries. He seines herring, fishes shrimp, groundfish and scallops.
Oshier no longer fishes lobster, but he is a buyer. His son is a lobster fisherman. Dave talked with Sam Murfitt about shrimp fishing during the last season which closed early.

"A full boat of shrimping, that's eight men, and then you've got the dock with another five or six, that's fourteen people. There are seven or eight owner operators that sell me shrimp, so there's another 15 jobs. So your looking at 30 jobs that we're all planning on until mid-April. There's a lot of jobs that are going to be lost through the winter."
Sam: What's it been, about eight years since it's been built up to this level?
"Yes and the shrimp fishery has been coming back. We had years where we didn't have any season, a 24-day season. The 8-day season - we lost all our markets. And then once they gave the season back, the shrimp were there, but you couldn't sell them."
Sam: They were getting 40-cents a pound or something?

"When we did start selling them we were at 27-cents a pound. And then we got up to 30 something. Last year we were up to 50, we broke 50, now this year we've gone up in the 70's. But now they want to stop the season or cut it back. That's just going to mess it up again. I think they should have a minimum season, like December 15 through March 15, minimum. And then let us play with the months. I mean we're catching all big shrimp, 4 and 5 year olds, catch per vessel is down a little bit from last year, but there's more boats going. I just don't understand it. I think they're over-regulating."