Final Barn Sale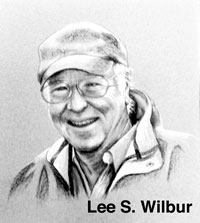 Yard Sales, church sales, lawn sales, whatever the moniker may be, they're all pretty much the same for those who enjoy a deal. On the other side of this game, of course, there's either someone or some entity who either needs money or needs to clear out collections (read that as stuff) accumulated over many years. And, then there are us who just enjoy catching a "good deal" and in said process have fun with a chance to do a bit of bargaining as well. We recently fell into the "stuff to be sold" category thinking "Oh we'll just lay it all out in the barn," never thinking there'd be better part of a week emptying closets and corners.
I'm reckoning at least 30 years since we built the last boat in my old shop. As time goes that wasn't an inordinate amount. Yet on my scale that's just shy of half a life time. Not an inordinate of time unless perhaps one has this 28x50 foot building, or differently put, 1400 square feet of undercover space where stuff like 20 or 30 rugs, old outboard motors, various and sundry piles of cookware from several homes (ours and theirs), camping gear that included six camp stoves, nicky-nacks, three major heat producers, the inevitable pile of odd silverware, and a 12' rack hanging out of style clothes begging years ago for proper burial at "Goodwill."
Then there were books. And more books. Books your parents had read, and I guess we figured our middle-aged children might want, but are now totally incapable of grasping the purpose of someone writing it in the first place.
I realized on the second or third day of preparation, 1400' was an illusion. Wicked amount of these valuable (or valueless) items laying on shelves, some hidden behind other questionably valuable items, and most would be more readily sold on tables or benches. Few categories were priced. Girls did clothes and shoes, some others. Remainder was all up to striking a deal.
As we set up, tables disappeared from sight immediately. Saw horses and boards the same. Surrounding floor next as we began crowding the big barn doors with saleables and nudging assigned areas of "Not for Sales."
Appointed Saturday. Signs out. Time posted. Friend, antique and odds-and-ender shop owner, calls. "What time can I get in?" "…Uh...well, I've got a few more things to do. I've got to be there by 5:00." He was waiting for me. By 6AM, he'd bought some $475 worth of stuff and eyeing more. 6:30, people are streaming in. Posters all read 9-12AM. What's a mother to do?? AJ and good friend Cecilia wouldn't be there until the appointed hour.
By now I'm trying to answer questions, bargain on items, make change with half the bank change in my nail apron, some in pockets and then digging for my wallet to make some mouldy dollars work. But, it was a blast. People I'd known better part of life would drift in. I'd have to say "Don't we know each other??" then try to catch up on multi years in the time it took to settle on a price for whatever beleagured item they'd managed to find.
Heat of the bargaining began to slow a bit by 11:30. Last shoppers straggled in. Then, this red-headed youngster, couldn't have been more than 6 or 7, came in with his parents. Parents looked things over quite carefully as did he. He spies a fishing rod. Old kid's rod with decent enough reel and he wants to know how much. Wanted to give it to him but that didn't work so I said "a dollar." Well he figured he could handle that OK with Dad's help and then under a table he spies a tackle box which we settled on for $4.00.
"You got any lures I can put in my fish box?" he asks.
I rummage around in the Not-for-Sale area and come up with a few lures and flies. Tell him those will be a dollar and the neatest grin just spreads from one side to other. Thought I could detect a glow in the red hair as well.
"What am I up to now Dad?"
"Six dollars"...My best sale of the day, bar none....Where was my camera!!
• R E C I P E •
From All Occasion Cooking from Canadian Kitchens...1983
Swiss Pie with Crabmeat Sauce
1 unbaked 9" pie shell
4 slightly beaten egg yolks
1 ½ cups light cream
½ t salt
1/8 t ground nutmeg
4 egg whites
6 ozs. (1 ½ c) natural swiss cheese, shredded
Bake pie shell at 450° for 7 minutes. Remove. Reduce temp to 350°. Combine egg yolks, cream, salt and nutmeg.
Beat egg whites until stiff. Fold into yolk mixture. Fold in cheese. Pour into pie shell.
Bake at 350° for 40-45 minutes or until knife inserted into center comes out clean. Let stand 5 minutes. Serve with crabmeat sauce.
Crabmeat Sauce
Sauté 1 cup (7-8 oz.) crabmeat (fresh preferably). Flake in 2 T butter. Blend in 2 t flour and 1/8 t salt. Add 1 cup light cream. Cook and stir until thickened…Bon Apetit my friends.