Maine Seacoast Mission Honors
Robin Alden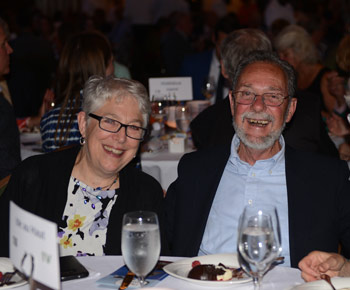 STONINGTON, MAINE — The Maine Seacoast Mission's Sunbeam Award Gala was held Friday, August 18 at the Bar Harbor Club. In its fourteenth year, the gala honors individuals for their outstanding contributions to positive change in Maine's communities. This year, Executive Director and founding member of Maine Center for Coastal Fisheries, Robin Alden, was presented with the Sunbeam Award.
Maine Seacoast Mission is deeply attentive to those they serve and guided by their input and participation. They believe in the capacity of individuals and communities to determine their own futures; a belief Alden strongly shares. Alden has dedicated more than 40 years to helping coastal communities and their fishermen take an active role in caring for their fisheries.
"I am so lucky to have spent my career doing what I loved," said Alden during Friday night's gala. "And now, I am so lucky and deeply grateful to be recognized for making a difference in these coastal communities. Communities that the [Maine Seacoast] Mission also serves. Back in the early 1970s, in a crazy world, this 21-year-old felt she could make a difference here. What an affirmation this is."
This award comes on the heels of Alden's announcement that she will retire from Maine Center for Coastal Fisheries at the end of the year, turning over the role of Executive Director to Paul Anderson. Robin Alden joins a notable list of Sunbeam Award winners, including fellow 2017 honorees Alan Baker and Earl Brechlin, the publisher and editor of the MDI Islander.