Boat Building as a Life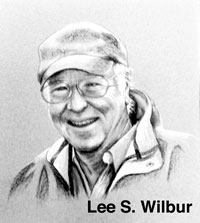 Looking back, as I've been more apt to do since knocking on the door of 75, I've wondered at the various chains of events which have shaped those years and how oftentimes the simplest of chance meetings, life intersections, spoken word or two, a conversation, or article in the paper, have played such a major role in my life.
No suspicion, even as much as I enjoy boats and boating, and never in my deepest imagination ever thought I would stumble into a career with as much fun, as much challenge as boatbuilding. Can say the same as well since Bill Crowe stomped into my office declaring he wanted me to write for his and brother Mike's fledgling paper Fishermen's Voice.
I have always loved boats. As a youngster, I used to make simple boat models with scrap wood and Dad occasionally asking "why don't you make something else?" after the floor in the cellar workshop was littered with various and sundry shapes of the oddest looking craft imaginable. I loved being on the water as well. At our summer camp and just tall enough by sitting on two life jackets to see over the bow, I'd run the duck boat and it's horse and a half air cooled Elgin back and forth from two in-sight points for hours. Towed at high speed on an inner tube just didn't happen in those days. Thankfully!
Wasn't too many years before models were traded for more ambitious plans to the "Mini-Max" hydroplane from legendary boat "dream" purveyor " Glen L" of California and help building it from Raymond Young, one of HR Hinckley's top joinery carpenters. Construction took place on Mother's new linoleum tiled basement floor. Unfortunately, I dropped off her sweet list when the floor caught a bad gig from acetone and resin spills after sealing the plywood seams with this new stuff called fiberglas. Dad's patients weren't of the most pleased nature as well when I tried "glassing" during afternoon office hours.
Later, with no choice but to take an end of semester leave from college struggles and by chance sitting in the Cafeteria being told by an ex-military friend not to do Navy and their photography course. He said fourth year military would be the longest year of my life. So, I did the 3-year army tour then back to U. of Maine. For some unremembered reason I signed up for some "education" courses as "fillers." Probably thinking, if I couldn't find a job there might be a school looking for help.
First summer, first wife Heidi and I were offered "position" running a seaside restaurant three meals a day. Then we bought a small inboard and to pay for it, we started renting it. Great way to make extra cash for school, especially starting a family. So we bought a few more boats with this new venture soon growing to a small fleet of sail, power, canoes, rowboats, and sailfish in a few years while still managing the restaurant (now two meals).
Course of events, we'd made enough money with the rentals and restaurant to make a downpayment on a civil war era, two story, large attic apartment house with two acres in Manset before heading back to last year at college.
Education courses, although I never got around to the "student teaching" section came in quite handy finding gainful employment as a teaching principal for a few years until the State Board of Education tapped Ellsworth school district mid-fall on the shoulder with "He's a No-No." (Isn't reaction time just marvelous in our dear State of Maine)
Timing couldn't have been better. We had a boat storage building by then and hull builders were looking for finish shops. I knew nothing except how to run tools and generate sawdust and chips. Next door neighbors were generous with skills and would teach me. Stars and moon kept colliding. Few years went by, discovered boat shows. Met Eric White and Wes Hauch, owners of North End Marine who wanted our fiberglas business. Orders increased. On the land alongside Civil War apartments (no insulation...wind would blow through the walls) we built a real boatshop and year later demolished Civil War building. Jarvis Newman came out with 32' model and all fiberglas pieces. He needed an assembler/finisher. We added another 28' to our "real boatshop." Then, came another joinery shop addition just as large and then another for offices and inventory.
Big world out there. Why should hull builders have all the fun. For control's sake or future company sale if nothing else, we needed our own models. Dick Homer did a sketch of a 38' sportfish/cruiser from half-model Ralph Ellis had carved for one of the first Miami shows. Wealthy General Motors inheritor 's captain comes by, allowed this was just what Mr. and Mrs. G. were looking for as their "Little Boat." Bingo. That sale started our line.
One of my closest friends, John Young, retires from the Navy as a mechanic. He and wife Karen come back to the "Million Dollar Island." John's looking for something to do. We add on a service business which John heads up and then we put up another building for that.
Several years pass, new models came on line, fun projects and wonderful owners followed. Business grew to approaching sixty payroll. Mr. and Mrs. G. come back for an even larger vessel...63', and we built another building. And before long it's time to think of retiring and "where did the time go?" time for new owners and who comes along?? Daughter Ingrid and husband John Kachmar wanting to leave the bright lights. Couldn't have planned a better road map.
• R E C I P E •
SUMMERTIME LOBSTER SALAD WITH A TWIST
As most coastal Mainers will attest, there's no good reason to fiddle with Maine Lobster salad. Miracle Whip or Mayo. My mantra is Miracle Whip for Lobster and mayo for crab. However...every so often...we like to stray and this one's next on the "strayable list" for summer.
Dressing:
3 T fresh lime juice
2 T rice wine vinegar
1 T sugar
1 garlic clove minced
1 T olive oil
¼ t salt plus ¼ t gr. black pepper
Combine:
4 C chopped lobster meat
1 C diced (firm) peaches
1/3 C finely chopped jicama
¼ red onion very thinly sliced
½ jalapeno pepper, very thin sliced
½ C lightly-packed cilantro leaves
4 C mixed salad greens
Combine dressing ingredients in a jar and shake. Then combine lobster meat and ingredients...except for salad greens. Lay salad greens evenly on 4 dinner or larger salad plates. Toss the lobster salad ingredients with the dressing and divide equally on the greens. Let me know!!