Phillip Barter: Artist, Fisherman, Painter of Maine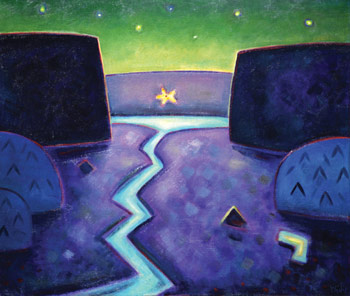 Artists have been known to fish commercially, but not a lot of fishermen try to earn a living making art. Phillip Barter has been painting Maine for more than half a century. Son, grandson and beyond of Boothbay Harbor fishermen, boat builders and carpenters, he may have inherited an eye for nature and form as well as a work ethic that have served him well. His roots run deep in coastal Maine and have guided his vision.
It was 1962 when Barter got out of the service. He went directly from four years of the control and discipline of mandatory U.S. military service in Japan to living on the beach in southern California.
Living on the beach there was possible for many of the reasons it was less possible in his hometown in Maine. The California weather was good, the water was warm and the spirit of doing it was in the air.
Phil started painting while he lived on the beach. "We were living the life of beatniks. When the free speech movement started in Berkley, California, in 1964, we were then living as hippies," said Barter. He had fished, like a lot Maine kids at a young age, so getting food from the ocean in California was obvious and easy.
He met painter Alfoso Sosa in Venice, California, whom he worked for and studied with. The girlfriend he lived on the beach with was a musician and together they traveled to folk festivals. She with a guitar case, Phil with pencils, drawing paper and a copy of On The Road stuffed in a back pocket.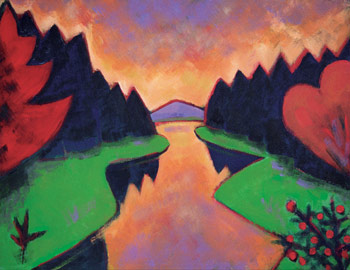 Phil came across a painting by Maine painter Marsden Hartley. It was a painting of fishermen on a dock in Corea, Maine, where Hartley had visited, lived and painted. This led to Barter heading back to Maine with the girlfriend who became his wife to, Barter said, "pick up where Hartley left off." Barter fished lobster when he got back to Boothbay, Maine. He also studied there with artist Fritz Rockwell. He soon moved further east near Corea, Maine, where he became involved with other artists and galleries. He worked in the traditionally diverse fisheries and shoreside economy of the downeast coast. He raked mussels, worked on boats and built a house for his family.
There were not as many artists in Maine in the 1960s. The painters who had come and made something of a name for themselves were few—Pinkhan Ryder, Arthur Dove, Milton Avery. Hartley was the only native Mainer and they all worked in the early 20th century. They were not native in the way Barter is, born of the landscape, brother to its inhabitants.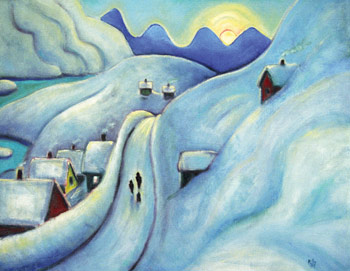 Phil continued to paint what he saw around him—the fishermen, the fishing boats, the sea, forests, sunrise, fog, village buildings and the people who were a part of it all. Many of them were the people he worked with and knew as friends and neighbors. Working with co-workers he knew so well became the source of the narratives for many of his paintings.
Barter developed a style that is very much his. But it, like most styles, has roots in the work of painters of a generation or more before him. Barter saw what his predecessors saw and painted it with his particular spin on color, shape and image. A colorist, Barter's work is bright, big, bold and luminescent. The paintings are two types said Barter—narrative paintings and abstract impressionist landscapes.
Barter moved to Franklin, Maine, with his second wife Priscilla in 1973. He traded a pickup truck for a parcel of land and started building a house. Phil said, not confessing, but more like boasting, that he was not a carpenter when he was building the house. Built from beams salvaged from barns, parts of wooden ships, wharves and old buildings, it is more sculpture than anything remotely like a standard off-the-shelf home. He built it a room at a time. As the family grew to seven children he added a room here, a room there, then a second floor, then a second floor deck, a chimney, another bedroom, a studio and more. Barter said while looking around the dining room from where parts of at least five other rooms were visible, "I can't believe I did all this."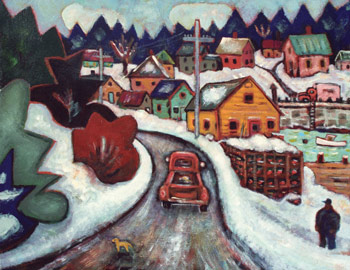 At the same time, he painted. In the late seventies Phil focused on painting and was soon selling paintings. His work was being exhibited in galleries along the coast. The Colby and Bates college museums bought his work. He and Priscilla traveled every year to places where Phil would absorb the landscape. Spain, Greenland, New Mexico, Utah, Mexico, the Caribbean and maritime Canada all resulted in paintings. Barter's Greenland paintings sold immediately. For a time in the 1990s Phil sold 100 paintings a year. His work is in the collections of individuals and institutions around the world.
Barter is a one-of-a-kind person—uniquely human observer, commenter on and recorder of the world around him. His paintings of nature extract its essence. Is this what other animals that don't have our analytical minds see—the shimmering glare of white sunrise on water with pointy, silhouetted trees on the horizon?
Phil Barter's paintings will be at the Courthouse Gallery, 6 Court St., Ellsworth, Maine, June 21 through July 20, 2017.
There will be a book launch and signing at the Courthouse Gallery, July 12, 2017, 4-7 p.m.