Paul Revere And His Bells
by Tom Seymour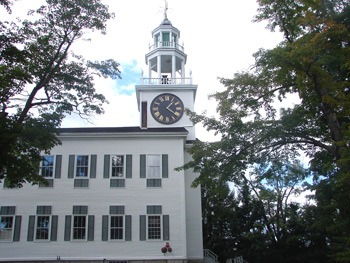 Paul Revere, forever immortalized in Henry Wadsworth Longfellow's poem, The Midnight Ride of Paul Revere, left a more tangible legacy as well. After doing his part in warning colonists that the British were coming and later serving as a Continental officer, noted silversmith Paul Revere went on to start a foundry in Boston's North End. There, he produced such commonplace items as stoves, anvils and cannon.

However, in 1792, when the bell hanging in the Second Church of Boston cracked, church members, including Revere, decided to recast the bell. But instead of sending the bell back to England for recasting, which was the typical course of action for the day, Revere rose to the challenge and volunteered to do the job himself. This, despite his total lack of knowledge regarding bells and the process of casting or recasting them.

Revere immediately turned to the only American who had any knowledge at all of casting bells, Aaron Hobart. Hobart sent his son, along with a well-versed foundryman to visit Revere and assist in making the first Revere bell.

Casting a bell differed greatly from what was required to produce more commonplace items. Virtually everything about the process was shrouded in a veil of mystery, if not secrecy. The mix of metals involved and even making the mold was something that only few Americans were familiar with at that time.

And so Paul Revere cast his first bell. On it, in raised letters, he put, "The First Bell Cast in Boston 1792 P. Revere." The bell was soon hung in place of the broken one and there it remained for many years, until it was purchased by Saint James Church in Cambridge, Massachusetts, where it remains on display in their auditorium, a showpiece of Americana.

Revere's fame as a maker of beautiful-sounding bells did not begin with his first bell, however. It was, according to reports, somewhat harsh and in general, unpleasant to listen to. However it served its purpose in more ways than one. It inspired Revere to continue learning the art of casting bells. And, of course, his bells soon became known for their sweet, clean sound. In time, Revere bells found their way all over New England and indeed, to some far-flung parts of the world. For instance, a Revere bell still tolls in Singapore.

Revere valued his reputation as a bell-maker and accordingly, stipulated that buyers come to Boston and listen to their new bell before taking delivery.

Most beloved for its sound and also the heaviest cast by the Revere foundry, is the 2,437-pound bell at King's Chapel in Boston. This bell, at least in part, was cast from metal recycled from another, older bell.


Maine Bells
In time, Revere bells hung in church steeples all over New England. Maine had its share of them, too. Indeed, according to a list compiled by Edward and Evelyn Stickney in 1976, a total of 14 bells inscribed with the name, Revere, existed in the state of Maine. The Stickney's garnered their information directly from the original stock book from the Revere Company, which at the time resided in the care of a direct, male descendent of Paul Revere.

While all have considerable historic significance, some of these Maine bells have especially interesting histories. For instance, the bell that Paul Revere sold to a church in Farmington, Maine. caused him much anxiety. Revere, always trusting, allowed the envoy from Farmington, a young man, to leave for Maine with the bell without getting his name or signing any formal papers.

After waiting more than the usual time, Revere wrote the trustees of Farmington Academy, wondering when he might expect payment. After getting no reply, he wrote again, this time plainly indicating his annoyance. This process of dunning bothered Revere immensely, but he was obliged to continue. In time, Farmington paid for its bell, but it was a long, drawn-out process.
Belfast Conundrum
The History of Belfast Maine, Volume 1, by Joseph Williamson and Alfred Johnson, supplies some specifics concerning the bell purchased from Revere by the Unitarian Church in Belfast. Williamson states that the bell was hung in late April or early May 1819. According to Williamson, "The contract stipulated that the weight should be at least twelve hundred pounds. Although a little lighter, the parish voted its acceptance."

A footnote from Volume 2 of The History of Belfast sheds even more information on the bell that still hangs in what is now the First Congregational Church of Belfast and at the same time, confuses the reader concerning the bell's weight. Williamson here says, "Two hundred and twenty bells cast by Paul Revere have up to the present time (1913), been authentically traced. On the old "stock book" of Paul Revere & Son, the above bell is number 219, and its weight is given as twelve hundred and sixty pounds."

To further confuse the issue, the list of Revere bells compiled by the above-mentioned Stickneys gives the year of purchase of the Belfast bell as 1820 and notes its weight at 1,288 pounds.

But no matter when it was bought and what it weighs, Belfast residents and visitors alike can hear the clear, mellow voice of this particular Revere bell every Sunday. The building and its bell have become a beloved, local icon.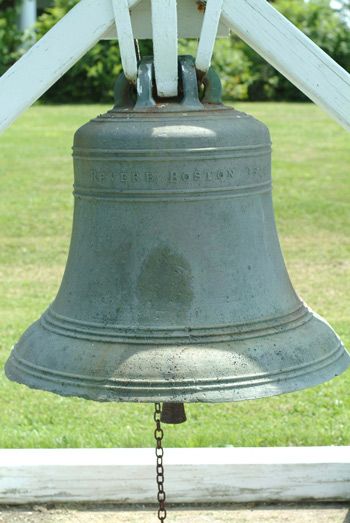 Bath's Bell
The City of Bath has its own Paul Revere bell, one that they are exceedingly proud of. This bell was, according to Maine Street Bath, a non-profit, community organization, cast personally by Paul Revere. It, according the group, is one of only four such bells existing in Maine as of 1971 to have sprung directly from the hand of the master. Which brings up an interesting point. What criteria must a bell meet to be declared a true, Revere bell?

Again, some variances exist. One school of thought says that in order to qualify as a Revere bell, it must have been cast during Paul Revere's lifetime. Another, more liberal interpretation, only requires that a bell be an original casting from the Revere foundry, bearing the name, "Revere."

Finally, to be a true Paul Revere bell, it must have been cast during Revere's active participation in the company.

The Bath bell was cast in 1802 and hung in the new meeting house in 1803. However, as with the Belfast bell, some confusing data exists. In 1929, the bell was relocated to the Davenport Memorial City Hall. Along with the bell came a commemorating tablet donated by the local chapter of the Daughters of the American Revolution. The tablet puts the date of casting as 1805. However, anyone looking at the bell can plainly see a legend declaring the date of casting as 1802.
The Bath bell has had several different homes and has served many different purposes. These include tolling for holidays, deaths, as a fire alarm, to mark the time of day and for religious services.
General Knox
In 1797, Henry Knox, for whom Knox County was named and one of George Washington's generals and a dear, personal friend, commissioned Paul Revere to cast a bell for the Congregational Meeting House in Thomaston. The bell eventually cracked and was recast by Revere's foundry in 1822. In the 1960s, the bell was removed from the old, decaying building and given to the Knox Memorial Association. That group had built a duplicate of Montpelier, the original Knox mansion next door to the church where the bell originally hung.

The bell now resides on the grounds of the General Henry Knox Museum and visitors there may see and touch it.

The firm of Revere and Company listed in excess of 950 bells cast between 1792 and 1828. Paul Revere's active participation in the company lasted from 1792 through 1811, when he was 76 years of age. The old revolutionary hero died in 1818. The King's Chapel bell tolled for his passing.

The last bell listed in the Revere and Company stock books and inscribed with the Revere name dates back to 1828 and was cast for the Congregational Church in Benton Falls, Maine.

Do more Revere bells exist in Maine than those currently identified as such? Perhaps. Also, only about half of the bells cast at the foundry were church bells. Other types of bells include ship's bells, school bells, factory bells and even handbells. Either way, it's fun to consider the intriguing possibility that somewhere tucked away in an attic, loft or belfry, sits a bell with raised letters, "Revere & Sons, Boston Massachusetts."