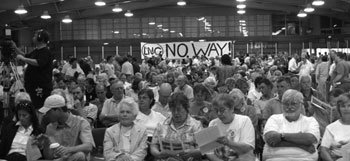 Close to 1,000 people showed up in St. Andrews for a forum on LNG. Some news media have reported that this was an anti-LNG rally. It was organized as an LNG forum at the request of developer Downeast LNG, but when they and the other developer who asked to present at the forum both backed out, it became a de facto rally. Photo: Old Sow Publishing
On a late-August night in the seaside resort of St.Andrews, New Brunswick, 1,000 people turned out for what was billed as an Informational Meeting On Liquefied Natural Gas terminals. There are three separate projects vying for a site on Passamaquoddy Bay, where in the 1970s local people fought off the giant Pittston Company and its plans for an oil refinery.
Today the fight is over LNG, and people on both sides of the border are raising voices to protect their bay, their fishery, their way of life. They claim that even if an LNG terminal is a good idea, it doesn't belong in the sometimes treacherous waters of this bay. They say risks far outweigh potential benefits such as promised jobs and millions of dollars for Native Americans.
But winning approval for any of the three LNG schemes may be trickier than navigating Head Harbor Passage in the fog. Numerous Canadian officials are objecting to any LNG terminal on Passamaquoddy Bay. New Brunswick Premier Bernard Lord said he would discuss his opposition to LNG with Maine Gov. John Baldacci at a joint conference of New England governors and provincial leaders. "The natural surroundings do not support an LNG terminal. It was examined 30 years ago, and the conclusion was clear then. The surroundings haven't changed," Lord said.
LNG terminals served by 900-foot tankers are being promoted by business groups calling themselves Quoddy Bay LLC of Tulsa, Oklahoma; Downeast LNG of Washington, D.C., and BP Consulting, a Washington County group. Spokesmen for the developers refused to attend the St. Andrews meeting, which was organized by local government officials. Observers say the developers wanted to avoid a session they correctly perceived would be dominated by LNG opponents. Empty chairs were placed in front of the audience to highlight the no-shows.
Cost estimates for an LNG terminal range from $400-$500 million, and if Quoddy Bay builds a terminal on the Passamaquoddy reservation at Pleasant Point, it promises the tribe $4-$8 million income annually. Quoddy Bay originally wanted a different site on tribal land, but that site required approval from the residents of nearby Perry, and they rejected the plan. Quoddy had tried to buy their votes by offering to pay all property taxes in Perry for 10 years.
The latest competition for a site comes from BP Consulting, a group that says it represents the Passamaquoddy Tribe at Indian Township. Fred Moore, Passamaquoddy representative to the Legislature, joined with state Rep. Ian Emery of Cutler, who lists his occupation as commercial fisherman, to propose a terminal at Red Beach in Calais. The city council there, desperate for economic development, has endorsed the concept of an LNG terminal at any of the three nearby sites.
Andy Scott, Indian and Northern Affairs Minister for New Brunswick, did not attend the St. Andrews meeting either, but in a prepared statement said, "I am impressed with the size of the audience and level of community support shown at (the) meeting in St. Andrews. These people are clearly concerned about the proposals to locate LNG terminals in Passamaquoddy Bay."
"With well over 2,000 miles of US coastline on the eastern seabord, I believe that there is no need to locate these facilities in an area that presents navigational difficulties and is home to numerous endangered or at-risk species," Scott said.
If U.S. backers win the necessary permits to build an LNG terminal on the Maine side of the bay, the whole issue could wind up in an international law court at The Hague, according to groups opposing LNG. They assert that international laws of the sea give Canada a say in whether LNG tankers can pass through its waters — something they would have to do in Passamaquoddy Bay. The narrow Head Harbour Passage runs between New Brunswick's Deer and Campobello Islands.
There is particularly sticky issues attached to the Pleasant Point reservation site for an LNG terminal. In that case, the local tribal council voted narrowly in favor of a deal with Quoddy Bay LLC. But Pleasant Point is not the whole Passamaquoddy Tribe, which includes another tribal council serving Indian Township at Princeton. Sources at Indian Township questioned the authority of the Pleasant Point council to proceed with an LNG deal without consent of the rest of the Tribe. If not resolved, the issue may end up in court, the sources suggested.
The Working Waterfront newspaper reports in its September edition that there is no guarantee of enough LNG to supply a new terminal in Maine.
Matt Simmons, an expert on oil and gas reserves, said neither of these resources can be counted on for the long term. His claims are denied by industry spokesmen who want to see LNG terminals built. They say Trinidad and Tobago can supply LNG for a quarter century or more.
A recent editorial in Offshore, a Massachusetts recreational boating and fishing magazine, referred to LNG tankers as "floating grenades" as far as safety is concerned. Also, government regulations require a vast amount of restricted space around tankers as they travel, and this would be a major hassle for small boaters, the editorial said. It predicted that LNG is coming soon to a town near you. In Fall River, Mass., it appears a proposed LNG on the Taunton River may be blocked by an old bridge. U.S. Rep. James McGovern slipped preservation of the bridge into a Congressional bill that passed. LNG tankers, it just so happens, can't get under the bridge.
Anti-LNG forces are marshaling on the west coast and in the Bahamas, where a former government minister said the islands should not be turned into a "gas station."
How risky is LNG? A news report from Nigeria says that on the last weekend in August an underground LNG pipeline exploded, causing a fire which destroyed 27 square kilometers of rich mangrove land in the port of Kalakama, an Ogoloma fishing community. Eleven people are believed dead and the incident caused the shutdown of an LNG plant.
In downeast Maine, many people want to see jobs and a better economy. Many people are also worried about bringing in heavy industry and tankers full of gas.