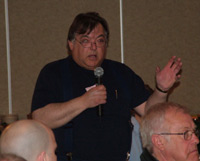 "We can spend a whole week debating (quotas)…if you want a black market, then have a quota…. We've seen what it does to other species…gone within 5 years."
— Wayne Spinney, of SW Nova Scotia District 34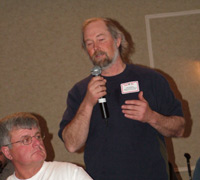 "This is the best and only forum where all these groups get together and talk. ...The biggest problem in the future is to convince your government to allow your freedoms."
— Jack Merrill, Cranberry Island, Maine
Photo Fishermen's Voice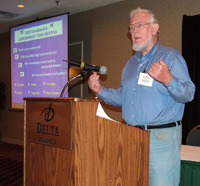 "Try to be constructive. This day will make a difference. We need to be getting to a place of management input, particularly on both sides of the border." — Ted Hoskins, winner of the
Fisher men's Voice, 'Moderator of the Year Award' Photo Fishermen's Voice
Photo
Fishermen's Voice
The second Annual U.S./Canadian Lobstermen's Town Meeting, held April 22, in St. John New Brunswick, provided the community of East Coast lobster fishermen and related agencies and industries a forum for "sharing observations and experiences," in order to better inform decisions and sustainability of the fishery. Sponsored by the Lobster Institute (LI), a research and educational organization based at the University of Maine at Orono, under the leadership of Bob Bayer and assisted by Jean Day, the LI Board of Advisors created the forum in order to bring together not only lobster fishermen, but scientists, government officials, buyers and processors. The LI works with all sectors of the lobster industry focusing on "protecting, conserving and enhancing the lobster resource and lobstering as an industry…and as a way of life."
As the most valuable fishery in the Northeast, lobstering is economically critical to the New England region.
There are complicated and diverse fishery management structures in place within the two countries on the East Coast. For example, The Maritimes and Quebec have 41 lobster fishing districts and 23 different fishing seasons. In Maine, there are 7 zones. Canadian and U.S. governmental agencies and entities number more than 40.
The morning session provided an exchange of ideas not possible when one group is at sea and the other on land. "Let the fishermen's voice be heard," proclaimed Dana Rice, President of D. B. Rice Fisheries in Birch Harbor, Maine, in opening remarks. According to Rice, both empirical and anecdotal information gleaned from fishermen at last year's forum were used in updating lobster-industry research. "What you say here today gets plugged into the system," said Rice.
Area Management Supported By Many

Sustaining the health of the fishery and the fishing community was a central theme to the lively morning session. "One thing to come out of today is that we can all agree area management is a good thing," said Bonnie Spinazzola, Executive Director of the Atlantic Offshore Association, "management areas were created to allow people to fish."
Many in the room concurred with Spinazzola, with Maine used as a working example. Said John Carter, of Bar Harbor, Maine, and Chairman of Area 1 Council, "In the State of Maine, the fishery is sustainable. We started protecting our oversize lobsters and we have broodstock like you won't believe. We don't get credit for it…(but) Maine was conservation before conservation was cool."
The Department of Fisheries and Oceans is looking at a plan, which would allow the Minister of Fisheries to delegate some responsibility to local Lobster Fishermen Associations (LFA) with management boards. Each LFA would have to meet organizational requirements, such as business planning and budgeting. Once approved, the boards could distribute tags and log books to LFA members. The LFA would build a database, allowing for improved communication channels between the DFO, LFA members in a district, according to Wayne Spinney of District 34 in SW Nova Scotia.
While fishermen seek more local control, they also recognize there is only one Gulf of Maine. "It's all about management of one great big ecosystem, without which we won't have a resource," said Spinazzola.
Quotas Get Thumbs Down
As lobstermen were asked to stand up and share thoughts and experiences, Wayne Spinney started the conversation with a desire to take the discussion of quotas off the table. "We can spend a whole week debating (quotas)…if you want a black market, then have a quota.…We've seen what it does to other species…gone within 5 years."
Mary Kennedy, of District 34, agreed. "We've gone through quotas in groundfish ...saw quotas owned by a very few. Absolutely nothing good came of it…except for those few who profited."
Examples of the use of quotas in other fisheries, such as cod, were used to press the point concerning the relationship between quotas and the decline or loss of the fishery. When quotas and/or licenses are bought and sold, then corporations tend to use their capital to own fishing rights, taking the fishery out of the hands of independent owners. Mink-farm owners, for example, have reportedly bought herring rights. As herring are used for feed in production practices like aquaculture and mink farming, it becomes more scarce, as well as more expensive, to use as lobster bait.
Quotas are viewed by many in the industry as merely a simplified mechanism to regulate the fishery and avoid the problems of current enforcement issues. In reference to governmental regulators and quotas, Elliot Thomas of Yarmouth, Maine offered his opinion. "From a management standpoint it's the easiest thing they can enforce," he said.
Several Canadian fishermen, including Spinney, described the lack of funding for conservation officers and the consequential illegal lobster harvesting that occurs now in Canada. Some remarked on the over fishing and illegal fishing which occurs and the lack of enforcement. "In Atlantic Canada, when we discuss quotas, you have to take a 'back seat'…to regulation, enforcement and current management practices," said Andy Gallant of District 36, the Bay of Fundy. Gallant agreed with Spinney, saying that companies are already buying up lobster licenses.
"Quotas measure output (quantities) rather than effort control," said Greg Thompson of Dipper Harbor, New Brunswick. "How do we measure input that an effort involves? Is the purpose to make the lobster fishery sustainable?"
John Carter, of Bar Harbor, Maine, and Chairman of Area 1 Council, said that quotas and the buying and selling of licenses "takes away the individuality" of the traditionally independent fishery.
"Traditionally in Maine, lobster fishing is a family business," said Ted Bear, of Harpswell. Corporations buy up quotas, noted Bear, and "destroy down-home fishing. Along the coast of Maine, I don't think it will work, other than Area 3 (offshore)".
"There is legislation in the cooker…in Washington, with plenty of people talking about quotas. If that's already underway, maybe we need to have a better understanding of what's going on," noted Steve Robbins III, of Stonington, Maine, suggesting that lobstermen be willing to discuss quotas in the context of discovering what the regulators have to say on the subject.
The group appeared to reach a consensus that without proper research — in areas such as lobster habitat, spawning and development rates — quotas would be based on little scientific information.
Studies Show: Reliable Information Hard To Come By
Some reported that stock assessments appear inadequate and unreliable. A trawl survey done last fall resulted in a survey showing fewer lobsters, yet the female catch was reportedly 'okay.' "The best data is not good data right now. We have to try and find money to get better research," said Spinazzola.
Pushing for science and industry to come together and for science to stay independent, Denny Morrow, Executive Director of the Nova Scotia Fishpackers Association, described a situation of "not enough feed and too many lobsters." In Districts 33 and 34, as fishermen suggested rolling back the carapace size, two science committees with input from fishermen and government scientists began looking at molt stages, blood protein and water temperatures. "This worked well," Morrow said, but noted the continued lack of funding for more study. "How are we going to pay for science in Canada?" he asked.
Funding of such research is an issue on both sides of the border. Some presented the case for a tax on the crustacean to fund more research. Encouraging the industry to fund more research, moving away from reactive research (for example, the studies done once shellfish disease was found in Long Island Sound) to a more proactive stance was advocated by many at the meeting.
The two long-term studies currently underway in Maine (one by Rick Wahle and the other through the Lobster Conservancy) currently have no long-term funding. Without good information gathered over the course of time from hatching to harvest "we are missing critical information for managing the stocks," said scientist Diane Cowan of the Lobster Conservancy, in Friendship, Maine. "Ultimately, (this type of research) teaches us more about what it takes to get a lobster from hatching to someone's plate...if you identify and know the habitat they grow up in, you can protect that," stated Cowan.
In Maine, the partnership between scientists and fishermen is growing stronger. Water temperatures, broodstock and protection of oversized lobsters are areas being cooperatively studied.
Workgroups Tackle Variety Of Issues
As major issues came to the forefront, workgroups developed in response to common interests developed throughout the meeting. Participants agreed to 5 workgroups including seal issues, and marketing and promotion.
Looking at predators and the publicity over the gray seal hunt recently, led to discussion, and, eventually, a willingness to invite environmentalists to the table when a work group meets to discuss the issue. With no predators, other than humans, the gray seal colonies reportedly have and are now moving into southwest Nova Scotia. There are reportedly 60,000 seal pups on Sable Island, NS. "It used to be the seagulls following your boat, now it's the seals," one fellow said. "You can't set a herring drift net anymore because of the destruction." Seals maul lobster traps in an effort to reach the bait and the lobsters. Fishermen are concerned about losing expensive gear.
The issue of seal fecal pollution on the ocean bottom and the effect on groundfish was also raised. Parasites are infecting not only cod, but also other bottom feeders, such as halibut and mackerel. More research in this area was suggested.
Marketing of the Maine lobster, particularly through the efforts of the Maine Lobster Promotion Council, was suggested as a model of excellence when it comes to promoting lobster. Highlighting the protection of the resource by fishermen, the health benefits of eating lobster and the "eco-friendly" nature of the fishery are efforts used by the Council, according to Bill Andersen, of Trescott Maine. The council receives funding by collections from lobstermen and dealers, as well as the Maine Lobster license plate.
When it comes to selling the lobster catch to worldwide markets, processors and buyers had lots to offer. With a weak dollar, fluctuating prices and catches, in a world where menus are printed months in advance of known market price, large restaurant chains take a close look at what goes on the menu. Consumers are becoming more interested as well and get much of their information about lobster from the media. Jerry Amirault, Chairman of the Maritime Lobster Processors Co-operative in Tatamagouche, Nova Scotia, reminded the group, "We are in the food business not the fish business".
The Stock Market
In addition to Cowan, the afternoon panel discussion included independent, Harry Mears, of the National Marine Fisheries Service in Gloucester Massachusetts; Jim Jamieson, Department of Fisheries & Oceans (DFO), based in Dartmouth NS; Doug Pezzack, DFO Bedford Institute of Oceanography; Joe Iodine, scientist with the New England Fishery Science Center in Woods Hole, Massachusetts, and Jim Wilson economist and educator with the University of Maine in Orono.
A unique process for bringing together fishermen, scientists, government officials, processors and buyers the meeting was skillfully guided by Ted Hoskins, Minister to Coastal Communities & Fisheries for the Maine Sea Coast Mission. Hoskins' efforts, and those of the more than 70 attendees from Rhode Island to Newfoundland, resulted in the volunteer work groups that hope to address the leading issues that emerged from the exchange of the day.
Mears noted that the "art of communication" was necessary to bring the varied groups together. "We are in the same room…closer than ever before to a meaningful way to communicate." Working with regulators from Maine to North Carolina, Mears pressed the need for Area Management as "one of the important fabrics in future management." Pezzack reiterated the importance of communication with "each other and the general public. If the general public doesn't understand (the issues), then the politicians won't."
In response to questions about preparing for stock declines and the resulting economic losses, Diane Cowan offered, "I don't even know how we would recognize a decline in stocks." Predicting a decline in a fishery where there is a seven-to-eleven-year time span between spawning and harvest requires long-term studies which are not adequately funded, according to Cowan.
Both Wilson & Jamieson raised the prospect of stock decline and economic consequences. Wilson, discussing local management, opined that with such a system "ideas come to the surface in a way they can't do when you do 'one-size-fits-all' (management)." And, speaking to quotas, he said they are "similar to limited entry licenses – they get valuable. Pretty soon you are moving towards a situation where companies are the only ones who can finance the effort."