New Bedford Waterfront Festival Reaches New Highs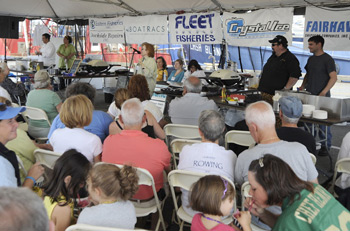 The New Bedford Working Waterfront Festival in September was the best to date, said festival director Laura Orleans. The crowds were larger at 20,000 plus. The weather was great with two summer-like days in the 80's. And a range of events that drew compliments from visitors as well as the central American consulate in Boston for the festival's cultural events.
The festival theme this year was both cultural and social. Cultural events included Cape Verdian, Salvadorian, Guatamalan, Sicilian, New England and many other musical performances and foods. The social part of the theme was "All in One Boat" which came to represent the impact of regulations on scallops, groundfish and lobster. Orleans said these impacts became topics of discussions at events, on stage and elsewhere. The result was that the public heard about these issues in a clear and thorough way, said Orleans.
The Northwest Atlantic Marine Alliance sponsored a "Seafood Throw- down." This seafood cooking contest between area chefs was a big hit. The chefs prepared the food before a crowd seated under a tent. The chefs talked with the audience as they worked, answered questions, and handed out samples.
There were plenty of fishing boats tied up, in this the nation's largest fishing port, at the state pier where the festival was held. The boats were open to the public for tours. In addition to musical events at the festival, musicians went to 7 area schools to perform.
Throughout the festival were speakers, poetry readings and musicians from Norway, Alaska, Central America, and Portugal.
Next year the festival will be on September 24 and 25.