2010 Common Ground Country Fair A Great Success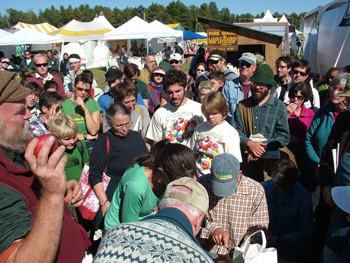 The Maine Organic Farmers and Gardeners Association (MOFGA) celebrated its 34th Common Ground Country Fair in Unity, Maine in September. MOFGA saw the second largest attendance in the Fair's history.
Over the course of the 3-day fair, more than 59,600 people came through the gates to take part in Maine's signature celebration of rural living, organic food and agriculture, and local enterprise. "With more and more people choosing local and organic foods, we're delighted to see the Common Ground Country Fair thrive as both a vehicle for and a reflection of this movement in" said Fair Director Jim Ahearne.
On Friday, opening day for the Fair, 16,000 people came to the Fair and almost 5,600 of these were school children on field trips to the Fair.
"Friday is my favorite day at Common Ground because of all the school kids on site," said Ahearne. "When more than a third of all people at the Fair are school age, there's an abundance of enthusiasm and curious chatter on the fairgrounds. It's a lot of fun to be around."
Attendance on Saturday was a record-breaking 27,000 and on Sunday another 16,600 made a day of it at Common Ground. More than 600 people rode bicycles to the Fair and well over 1,000 took the train. Recently the railroad line between Thorndike and Unity was reopened and visitors were able to leave their cars in Thorndike and ride the train to the fair grounds.
Common Ground is perhaps most unique among country fairs for the depth and variety of hands-on demonstrations, workshops and talks offered by farmers, gardeners, and fair exhibitors. "This year we had over 700 exhibitors and vendors at the Fair and close to 700 events on the schedule," observed Ahearne.
Among the exhibitors was the Midcoast Fishermen's Association and Port Clyde Fresh Catch. This year they were in the market area selling fresh fish.
"Agriculture is our wisest pursuit, because it will, in the end, contribute most to real wealth, good morals, and happiness."– from Thomas Jefferson to George Washington