Wayne Canning, left and Wes Shute aboard Daydreamer. Canning's good sense shows in his ability to explain an elaborate engine in simple terms. He can actually appear serene during utter frigging chaos.
Sam Murfitt photo
It was a fisherman, not a mechanic, who roared, "There's the music!" after hearing the starting line up at Moosabec rip through the VHF. It sounded like an orchestra pit, alright, and if you listened, you could pick out the distinct sounds of the engines of the larger boats and name them without a glance as they circled the territory where FLYING RYAN and TAKEN OVER were just heading toward the line.
On Tuesday before the race, the word was that "UNDERDOG will be making 'a little more power'—she's got a 540 crate engine, it's the same engine block, only it's bored to 540…." Calvin Beal's LITTLE GIRL is the first wooden lobster boat he has built in a very long time. Even if she wasn't "good to go," those who hadn't seen her couldn't wait to get a look.
There was also speculation surrounding a new boat from Stockton Springs, Wes Shute's DAYDREAMER, which has a "blower." New to the circuit, people wondered what she could do.
Shute's reaction is cool and un-phased when it's mentioned that, at this minute, there is probably more total (lobster boat racing) horse power moored in Stockton Harbor than any other place. He nods once, his firm gaze unbroken with a focus that could cut glass. "For Now," he said.
In 2005, members of The Maine Lobster Boat Racing Association voted at their annual meeting (held during the Fishermen's Forum at the Samoset Resort) to allow blowers to be used on engines. A blower is a force-induced "power booster" fastened on top of the engine and driven with the belt from the crankshaft. Unlike the situation with "naturally aspirated" engines, fuel is pushed with compressed air (rather than sucked) into the combustion chamber, where it's then pumped up with an extra shot of gas. Some of the super charged European sports cars (the Lamborghini Gallardo Superleggera 530hp, and their Murcielago LP 640's, and Jaguar XJR Supercharged /400hp) use compressed air fuel delivery, which is similar to what you get on an engine with a blower.
According to one seasoned race mechanic, " While no sanctioned Lobster Boat Racing Committee would even dream of allowing alcohol blowers, in reality, gas burns hotter. Alcohol—with a cooler burn—is actually considered safer. Ariens pull truck engines use alcohol blowers in competitions." Another source said "The old Detroits, 471's and 671's, all had them [blowers]. They were used on diesels first, and they've had them on foreign 'performance' cars for years."
Like Lamborghini Holding Company, Wes Shute admits high horsepower isn't "green" and, it's expensive, costing $130.00 for "less than an hour's running time" and "burns five gallons of gas in 12 minutes or less." But then Daydreamer's not a boat you'd casually go out and haul traps in, either.
"I was disappointed the cops didn't show when I fired her off," joked Shute, assuring me he didn't mean it as we looked over the blower restraint belts. "All aluminum bolts," he added, fiddling with the "lucky lobster" pasted near the windshield.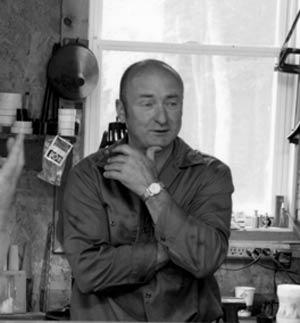 There were a few other good races, too. Judging by the prize hardware sitting on top of a white enamel cabinet that reaches the rafters of his shop, that might be an understatement.
Sam Murfitt photo
There is a lot of work in this custom-built modified gasoline engine, which was put together—the block, crankshaft and Pistons—by Bob Stevens up in Gardiner.
Wayne Canning has also done some of the work and explains the engine in understandable terms; "The fly wheel, belts and hoses may hook up to a Chevy or a Ford block, but by the time you're done, it's all custom fabricated, and the finished engine has very few Chevy parts, so it's not exactly a lock stock and barrel after-market Chevy engine."
Wes won the World's Fastest (1984) in a Holland 32', which, according to Wes, we "may see back." There were a few other good races, too. Judging by the prize hardware sitting on top of a white enamel cabinet that reaches the rafters of his shop, that might be an understatement.
"We swore we'd never do this again, says Shute, yanking off his cap and running his hands through his hair as he casts a glance at Canning, who's laughing so hard, he barely recovers before launching into a story of his own. He leans in close, telling me about re-building an engine one winter in his kitchen, right next to the wood stove. Things don't have to be complicated.
Canning's good sense shows in his ability to explain an elaborate engine in simple terms. He can actually appear serene during utter frigging chaos.
"Parts all over the table..." His lady didn't mind. It lends the DAYDREAMER operation some class, hearing that. Wes Shute's other half, Automatic Sue, is the 'traffic stopper' in one of the big Wardwell trucks doing the regrading on Rte. 1.
Shute continues, "If it wasn't for Wayne…."
"Wayne Canning delivered the whole package. He has all these little secrets—engine stuff . . .," confides Shute, hauling on a cigar, shaking his head. "There was Stu Phelps and Ken Jenkins helping out," adds Wayne, who didn't seem to want to take all that credit. "And Ray." "Dylan Connor worked—on a Sunday—to get those windows in. Shawn Alley—that's Wendell's son—did all the electrical. The lettering was done in Searsport at Midcoast Sign, and Bill Kirby did the engine beds while his wife, Joan fed us crabmeat rolls," laughs Canning. An Everlast bag swings from a beam in Shute's shop. "That's Wes' pressure valve."
Making adjustments and repairs in the racing circuit is no cake walk, and it's not a job for lightweights. When you're busted up, time doesn't wait for you to climb back into the ring. You spend nights under fluorescent shop lights that get turned off when the sun turns the sky red, then you make more coffee.
It was no slam-dunk for these guys to make it to the line at Jonesport. DAYDREAMER, built in 1989, is a South Shore 30'"That's a Calvin Beal, done up by Peter Rackliffe. He was doing those while I was working at Holland's on the 38's," says Wayne. Aside from his work at Holland's, Canning has worked for the Otis', and Jimmy Beal—quite a trifecta. "I've been pounding fiberglass for 20 years," Canning said.
"At the beginning, the fiberglass was all de-lammed. The boat has been in the shop for three winters. "The stringers were cut right outta there, it was completely gutted inside." They were right down to bare fiberglass, nothing inside to hold the shape of the hull. It might have been cheaper to scrap this one and start from scratch…but Wayne took the time to put in light weight stringers, which brought the boat up out of the water five inches. She sails straight now, too, after the lightweight stringers went in.
"He's the best fiberglass man on the East Coast," says Shute, gesturing at Wayne.
Tracy Porter helped move things along, Roger Brown did the welding, then BANG—things got done. About a week before the Fourth , we were aiming for Searsport, but they got her in before that. We were running, we got to the trailer."
The timing and the carburetor were "off," but they went anyway. Shute figured "The boys downeast were looking for some raw meat."