Elver Fishery Market Cycles
by Brenda Tredwell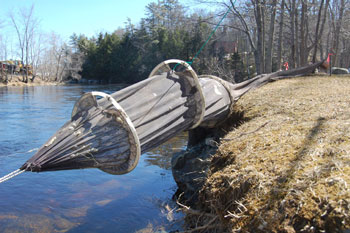 Fyke nets were up on the river bank as an elver fisherman waited on the tide to adjust gear.

"They're finding out these creatures are very linked to the phases of the moon, gravitational pull. Put them in a bucket, they'll go clockwise, if we were in Australia, they'd go counter-clockwise," he said, watching traffic stream over the Union River Bridge. "People in those trucks and cars have no idea…millions of glass eels moving up this river. When they start out (eel larvae) are in the ribbon stage, then grow out to (the size of) a willow leaf.

"As they get closer up into the coast, they begin to feed. Once they start eating, (glass eels) get a black line. I think they (fisheries regulators) made a mistake in the seasons. They come when they come, not because it's March 22 on the calendar. Last year, they came down in February, and during the last two weeks of elver season, the weather was hot, they fed, then they were turned black."

"The Chinese farm elvers, they want to control the growth rate—temperature, feeding. Just recently, the Japanese figured out how to breed eels in captivity. In the Philippines, they were bootlegging them. They'd mix different classes of glass eels so when they put them in captivity, only 25 percent survived. If they hadn't ruined their supply over in Japan, we wouldn't be in this situation. In the New Jersey glass eel fishery, they had unlimited entry, then it got ridiculous so they closed it right down. In Connecticut, it's still very limited. Opening up the eel fishery is a bad idea."

The glass eels, tanked in a cooler, zing around in a salt and freshwater brine, supplied by a green garden hose. A baseball-sized bag of eels, holding 2,000 to 4,000 eels, weighs out to a pound.

"Around 1969, when we first started," continued the fisherman, "for the cost of a commercial fishing license, you could take big eels, glass eels, take up a weir or a crew and dealer's license. It cost maybe $96. The government got involved when price for eels went up. According to the 1820s Maine blue book laws, these towns and townships own the alewives, the fish…"

Historically, the eel and elver fishery was one that supplemented incomes for commercial fishermen. Traditionally, Maine fishermen were able to diversify their efforts in a variety of seasonal runs of fish and shellfish..

Some elver harvesters claim their fishery has been treated as a free-for-all, where too many inexperienced harvesters entered the fishery and frequent turnover of personnel at the Department of Marine Resources (DMR) created a learning curve situation rather than progress within the industry. Others claim the virtual "gold rush mentality" that began in the glass eel fishery during the mid'90s would never have developed without the active encouragement of the DMR. Another claim is that "They're shutting down the fishery by attrition by not letting new people in to keep it active."

In the US, the fishery is driven mostly by foreign demand. Other countries buy the elvers to grow them out at aquaculture facilities. In 1993, the average value of a European-bound shipment was $14,184, while value of an Asian-bound shipment was $24,297. By the late 1990s, overseas demand from Asian aquaculture markets drove the price for live elvers above $300/lb. in Maine.

In 1997, the European eel shortage drove the price up. Inadequate supply due to environmental conditions and over-fishing set off a buying spree. Asian dealers bought eel on speculation, tapping every source. Chinese dealers placed advance orders before that season's eels had started migrating, and closed deals on large quantities of wild and farmed eel, and elvers—paying outrageous prices. Bidding spiked from Hong Kong to Beijing, founding a solid market for American eel, glass eel and elvers. While serious stock declines for European eels built a market for American eels, heavier demand caused US agencies to create regulations to protect eel stocks.

Asian demand made the fishery lucrative, attracting poachers and non-fishermen from outside the US, from Florida to Maine, to the fast, seemingly easy money offered from overseas. This infuriated legitimate dealers and fishermen who worked in this fishery before it became lucrative.

By 1997, US agencies had to work aggressively. With foreign buyers paying $300 to $600/lb., Charles Lessor, Fisheries Administrator for the Delaware Department of Natural Resources Division of Fish and Wildlife told the New York Times, "(Elver poaching) is a very organized operation through the foreign markets. In many respects, it's just like a drug cartel."

In 1999, the Japanese market collapsed, and the elver market bottomed out. From 1999 to 2005, the price for elver in Maine averaged $24/lb to $29/lb, then shot back up to $237.59/lb. By 2007, the price per pound hovered around $366.66.

Limited entry was established by legislature for Maine's elver fishery in 1999. The fishery was limited to 827 fishermen. The season was reduced by three weeks, and gear reductions based on individual fishing history, allowed a maximum of two units of gear.

The lottery system, established in 2000, was designed so that when one fisherman left, another was allowed in. The new fisherman was limited to one piece of gear. The lottery system is currently closed and, licenses are issued only to those who participated in the fishery the previous year, with gear limited to two pieces: one dip net and up to two fyke nets.

In 2005, only 284 participated in the elver fishery. Gear fees for 103 dip nets and 320 fyke nets were paid by elver fishermen. Glass eel recruitment was the second highest on record. Total elver catch was up from previous years: 5,535/lbs. were landed.

Preliminary DMR 2010 landings data reports Hancock County as a leader for the elver harvest, netting 921/lbs, valued at $184,233. Statewide catch, by 425 licensed fishermen, totaled 3,158 pounds, at $185.20/lb, total value $584,851. At the start of the 2011 season, Maine elver fishermen were getting around $350/lb.for glass eels.

After the elver lottery closed, many harvesters who are involved in the fishery for the long haul said issues surrounding entry, or re-entry into the fishery threaten its survival. The eel and elver fishery is one of few options left for diversified commercial fishing.

Randy Bushey, of Bushey Enterprises in Milbridge said, "We need our gear back in order to keep a substantial market going." Bushey agrees that opening up the fishery through an apprenticeship program where experienced harvesters oversee under-experienced ones fishing limited gear would be a reasonable goal.

"The people who held licenses since they were first issued, and have held licenses with no violations within that period should be allowed to go back to five pieces of gear," Bushey said. He feels enough fishermen would be willing to pay $100 a net, above the $200 they already pay, for that extra piece of gear.

After a letter from environmentalists triggered a petition to place eels on the endangered species list, the US Fish and Wildlife Service launched a 90-day administrative finding, and determined after extensive review that the species was neither threatened nor endangered. The species shows significant resilience, according to the USFWS. In a 1998 study of American Eel fecundity, researchers reported "63 female eels in Maine were reported to have a fecundity of 1.4 – 21.9 million eggs for eels ranging from 45-113 cm in length (McCleve and Oliveira 1998)."

"There used to be more gear in the water," said Mitch Feigenbaum of South Shore Trading Company. "Historically, it was an open fishery, and until the late 1990s, when one fisherman left, another came in. After that, there was a bad market (and) low renewal on licenses. Between gear reductions and ending the lottery for entry into the fishery we're at an historic low. If no new licenses are issued in the future, the fishery will die. Hopefully, they'll re-evaluate as stock assessments are done."

Feigenbaum, a member of the Atlantic States Marine Fisheries Commission (ASMFC) advisory panel for eel, said, "I appreciate the need to have appropriate regulations to keep the fish stocks sustainable. At the same time, unless the state starts allowing some new licenses into the business to make up for those who quit, retire or pass away, the fishery will fade away. Balancing the need to properly regulate the fishery with the need to keep it viable is a challenge."