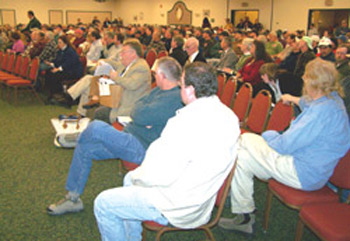 A crowd of about 400 fishermen gathered at a public hearing in Ellsworth on March 5 to discuss a bill that would allow bycatch lobster caught by groundfish draggers to be landed in Maine. Widespread opposition was voiced by lobstermen, conservationists, scientists and regulators.
Photo:Laurie Schreiber
AUGUSTA – About 400 irate lobster fishermen showed up at a legislative hearing March 5 to express support for the groundfish industry but pan a proposal that would allow groundfishermen to land a limited number of lobsters caught in their drags.
Lobstermen said an enduring history of trap-only lobsters is a keystone to maintaining a healthy resource and habitat, as well as Maine's reputation for quality lobsters. They said draggers will end up taking the offshore breeders inshore fishermen have notched and thrown back in order to conserve the resource. And they said the proposal would do nothing to keep the groundfishing fleet in Maine because Massachusetts, not Maine, takes large lobsters.
Groundfishermen and their supporters—who included working waterfront preservationists and officials with the city of Portland, where the ailing Portland Fish Exchange is located—said incidental lobster take would be miniscule compared with directed landings but would go a long way toward keeping groundfishermen solvent and maintaining infrastructure, such as processors and fuel and ice dealers, until the resource is recovered.
"This committee, this legislature, this state must send a loud and clear message that Maine lobsters must be trap-only," said Robert Baines of the Maine Lobstermen's Association.
Representative Anne Haskell, who sponsored the bill for the exchange, disagreed. "This bill will hang out a sign that says, Maine's working waterfront is open for business," she said.
LD 170 would create an offshore lobster and crab landing license that allows non-trap lobster landings from Area 3, with 100/500 trip limits and an overall 6 percent cap on total incidental landings annually.
Hank Soule, manager of the exchange, which handles 90 percent of Maine's groundfish catch, said LD 170 was conceived of as a way to stem the loss of groundfish from Maine vessels to other states, principally Massachusetts.
"Since 2005, the number of trips by Maine vessels landing elsewhere, and value of those trips, has tripled," he said. "Maine is caught in a double-squeeze: federally mandated reductions in fishing effort which reduce landings overall, and state policies which encourage vessels to take their business elsewhere."
Lobsters can add up to 20 percent to a groundfish vessel's revenue, said Mr. Soule. "The number one reason Maine vessels have departed for Massachusetts is lobster landings," he said. Mr. Soule said lobster bycatch occurs routinely anyway.
But lobster fishermen and others said the short-term gain of the groundfishery should not outweigh the lobster fishery's long-term commitment to conservation.
"At stake are the cornerstones of Maine's longstanding lobster conservation measures: our prohibition as a state on the dragging of lobsters and our requirement that lobsters can only be harvested by traps," said Department of Marine Resources Commissioner George Lapointe. "These two measures date back nearly 50 years and have withstood the test of time, not due to inertia or pressures of political expediency, but because the people of this state have recognized their great significance to the long-term health of one of our most important industries."
Many speakers said they hate to see one fishing industry pitted against the other. All agreed it was essential to keep Maine's groundfishing fleet, and the infrastructure integral to local economies, alive and healthy through the recovery of groundfish stocks.
"I am deeply saddened," said MLA executive director Patrice McCarron, "to be here before you on this bill today not only because this proposal seeks to undo one of the pillars of lobster conservation, but because this issue is dividing Maine's fishing industry."
But lobstermen were adamant that landing dragged lobsters was not the way to go. They said, rather than Maine going that way, they'd rather see states that allow dragged lobsters ban the practice. Mr. Lapointe said Maine has been unsuccessful in getting other states to agree to a coast-wide ban. "It's a flashpoint at the interstate level," he said, adding he would continue to pursue the idea.
Mr. Lapointe said he is also considering a request similar to Massachusetts, for an emergency declaration for the groundfish industry, based on the expected economic impacts of the groundfish plan's latest management measures (Framework 42). However, he said, the impacts in the eastern Gulf of Maine are expected to be far less than western.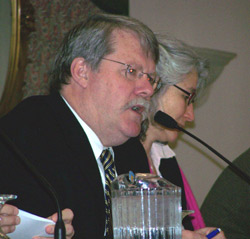 Senator Dennis Damon, Marine Resources Committee Chair (L) and Representative Leila Percy. At the March 5 Ellsworth public hearing. The meeting led to a March 14 work session at which the bill, LD170, was unanimously voted down. However, the plight of groundfishermen was recognized and efforts initiated to address it.
Photo:Laurie Schreiber
There was significant disagreement as to how many lobsters the incidental take would amount to.
Mr. Lapointe said the bill's limit of 6 percent would still amount to about 4 million pounds, figured against Maine's lobster landings in 2006 of 66.6 million pounds—far more than the half-million pounds cited by the bill's proponents.
Mr. Soule stuck by half a million to three-quarters of a million pounds.
"It will be well under a million pounds. I'm absolutely positive of that," Mr. Soule said, as a grumble of incredulity arose from the crowd. Both lobster and groundfish revenue are lost when Maine groundfishermen divert their trips to Massachusetts, noted Charles Lawton, a senior economist with Planning Decisions in Portland.
The migration of the fleet south means the disappearance of Maine's infrastructure, said Sam Davidson, a founding member of the exchange.
"These businesses are gone for a very long time—and with it goes the knowledge base and skilled labor necessary to make it all work," Mr. Davidson said. "This infrastructure is not easily replaced in a reemerging economy; businesses need to be rebuilt and skilled labor redeveloped. This all takes time. Consequently, this lack of infrastructure will stall and otherwise delay resurgent fishery growth."
The value of incidental landings, Rep. Haskell said, will come to $3 million, a pittance compared with the direct harvest at more than $300 million last year but significant income to the ailing groundfish fleet.
"As the pressure of increasing costs has risen, any possible revenue source becomes more significant," said Mr. Lawton.
But University of Maine professor Jim Wilson said the economic argument isn't compelling. "The ability to land lobsters in Massachusetts is only a small part of the overall economic equation," he said. "Dominating almost every other consideration is the conservation failure in the groundfishery. This has led to a series of regulatory measures and to a pattern of fish location that strongly favor landing in Massachusetts. It is simply not reasonable to believe the provision of LD 170 can erase this poor conservation record and lead to a substantial increase in landings at the PFE."
Other concerns around dragging included potential impacts on offshore broodstock, damage to dragged lobsters and habitat, the temptation to high-grade, and additional effort on lobster at a time when the industry is seeking to reduce effort.