Unhappy Holidays For Lobster Shippers
by Sandra Dinsmore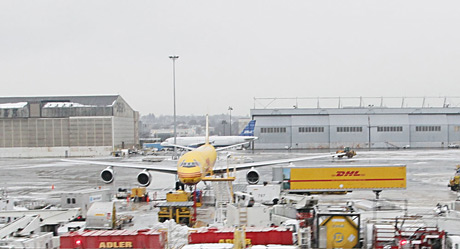 Shipping a live, highly perishable product such as lobster by air in winter depends on Mother Nature. For those shipping lobster to Europe and Asia, the period from December 15 through the 31 is one of 18- to 20-hour days of making sales, packing, and shipping the product. As a Canadian shipper put it, "Every man and his dog from here to San Antonio, Texas is sending Christmas cards and gifts and all kinds around the world." Packers with children who take Christmas Day off are considered wimps. It's an exhausting period even when Mother Nature cooperates.
The 2010 holidays were filled with catastrophic weather both here and abroad. The trouble started in mid-December for London with a snowstorm that closed Heathrow airport. That stopped the shipping of perishables for the rest of the month. "They're unable to do proper snow removal," a Canadian shipper explained, adding that, "snow removal led to some flooding."
A pre-Christmas snowstorm in Paris closed the Charles De Gaulle (CDG) airport because the weather was unprecedented due to, the Canadian said, the volume and intensity of snow in a very short period and without having adequate resources to deal with it. Dealers who shipped lobster from New York to Paris Christmas Eve day had to unpack it upon its return. The planes had not been allowed to land.