An Unlikely Dream, RawFaith, Sinks With No Loss of Life
by Steve Cartwright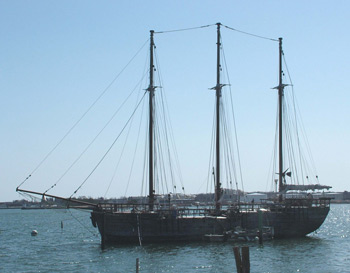 The strange and sad saga of a three-masted galleon came to an abrupt end on December 8, 2010, when the RawFaith sank in 6,000 feet of water, 100 miles southeast of Nantucket.
The owner-builder, George McKay, 53, was rescued by a U.S. Coast Guard helicopter, along with one crew member, before the vessel foundered. The vessel left Salem, Mass., Dec. 4, reportedly headed for Bermuda. It had been tied to a Salem dock for weeks.
Launched into the Pleasant River at Addison in 2003, RawFaith was a curious sight for several years while moored in Rockland Harbor, and was later docked in Portland.
It wasn't the first time the Coast Guard came to RawFaith's rescue. Twice the 88-foot boat has been towed into port after becoming disabled—in one instance dismasted in what McKay said was a storm, but others disputed the severity of the weather.
Despite official misgivings about seaworthiness, the Coast Guard lifted an order that RawFaith stay at Rockland harbor, and earlier this year the vessel sailed to Portland, assisted by a tow.
McKay had a vision of a vessel to take disabled people to sea, inspired, he said, by his daughter's disability and her perseverance in life. But authorities said his owner-built boat could never qualify as a passenger vessel. McKay, who invested his life savings in RawFaith, was bitter about the project in an interview a couple of years ago. He blamed others for his misfortune.
"I'm still fighting with the Coast Guard," he said, adding that RawFaith is "one of the best, well-built wooden vessels the Coast Guard has ever inspected. I've had so many inspectors look over RawFaith it's ridiculous."
Rockland harbormaster Ed Glaser said in an interview two years ago that he has tried to be lenient with RawFaith's skipper. "We've given him a fair amount of leeway. I have a certain sympathy for him."
"It's rustic," McKay acknowledged in the interview aboard his boat. "There's nothing pristine about her."
"You can't beat triple planking for strength," he said, citing a combination of white oak, spruce and pine. "The hull's not perfectly fair. So what?"
McKay once worked as an engineer at Digital Equipment in Augusta, before it went out of business. Building RawFaith became his passion and ambition, fueled by his Christian belief and his grown daughter Elizabeth's struggle with multiple physical handicaps: "She was the inspiration. If it wasn't for her I probably wouldn't have done it."
In his on-board interview, McKay said, "Maybe RawFaith is just a proof of concept. Maybe RawFaith will never take anybody out but will be the proof of concept for a $14 million ship," he said.
"If RawFaith is truly unsafe, we'll take it out and sink it."