Alewife Restoration Project, Part II
by Sandra Dinsmore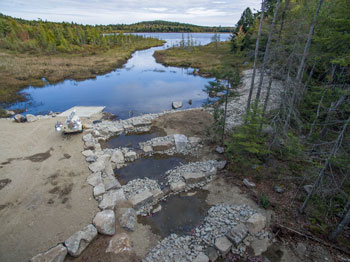 The removal of a dam at Wight's Pond and re-opening fish passages for alewives at Wight's and Pierce's ponds in Penobscot took an incredible amount of time for those involved and a surprising amount of money. (The alewife, Alosa pseudoharengus, is an anadromous species of herring that spends most of its life at sea, but returns to fresh water to spawn. It is a traditional spring source of lobster bait.) Both Pierce's and Wight's pond fishways were completed by September 30. It was a complicated process.
"The Nature Conservancy and NOAA (the National Oceanic and Atmospheric Administration) funded much of the whole fishways project, but it wasn't simple," said Ciona Ulbrich, Senior Project Manager for the Topsham-based Maine Coast Heritage Trust [MCHT]. Ulbrich, who lives in Blue Hill, represents both the MCHT both on this project and on a recently formed Three Town (Brooksville, Penobscot, and Sedgwick) Alewife Committee. She spent the last two and a half years writing grants, negotiating contracts, working with boards of selectmen, fundraising, and attending many meetings in order to bring fish passage back to Wight's and Pierce's ponds.
Ulbrich feels that opening these fish passages on inland streams is important to the coast and to the Gulf of Maine. Not only do they impact water quality but, she said, "The fish population of the bay depends on these little inland streams and ponds and wetlands that feed it."
The Nature Conservancy and NOAA funded the initial engineering study by Wright Pierce, a Topsham-based engineering firm, through a grant from the Penobscot River Habitat Blueprint Program.
The Town of Penobscot then hired Wright Pierce to do the engineering for the permitting and bidding for construction. Ulbrich reported, "That final design and engineering work was funded in large part by The Nature Conservancy and NOAA through a grant from the Penobscot River Habitat Blueprint Program, in addition to funding from a few generous private donors (thank goodness for people in this area who care about fish and understand this issue!), the Town of Penobscot (by town vote), and State of Maine Natural Resources Trustees."Ulrich said MCHT hired Wright Pierce to do on-site engineering oversight of the project to ensure it being done to specification.
---
The fish population
of the bay depends on
these little inland streams
and ponds and wetlands
that feed it.
---
The engineering was down to measurements of an eighth of an inch in some places. It was a tremendously complicated project. Ulbrich agreed saying, "It's amazing how complicated it is to hold back water and how complicated it can be to design things for fish to be able to run up. It makes one have a lot more appreciation for nature."
In addition to the fishway engineering, there were additional construction and site costs paid for by the Town of Penobscot, MCHT, and the Town Alewife Committee. These, Ulbrich explained, were "designed to make it a site where people can enjoy the place and can learn about fish passage, about the project and about the habitat." At Pierce's Pond, Ulbrich said trees needed to be cut as well as some improvement to the parking and pullout area, the boat ramp, a viewing platform, installation of a foot trail, some picnic tables, and a few educational signs. The Town of Penobscot, the Maine Outdoor Heritage Fund, the Blue Hill Heritage Trust, Maine Sea Grant and private donors paid for the public education and awareness part of the project.
"Fundraising was definitely a big part of the time input over the past two years on top of the many steps needed for permitting, engineering and design, obtaining of bids for engineering and construction, and communications with the public," Ulbrich said. She added, "We are lucky to have really strong support for these projects in the community and from a variety of funders."
The R. F. Jordan and Sons Construction, Inc., of Ellsworth, did the construction. Ulbrich said Jordan's bids were well below those of other bidders and, "were a big part of how we got both of these projects done this year."
Engineering costs came to between $75,000 and $85,000. Construction at Wight's Pond came to $113,600. Construction at Pierce's Pond came to $120,400. A conservative estimate of the total cost for both projects came to $294,500.
"Making a nature-like fishway set of pools and weirs," Ulbrich said, "meant that the town had little to no ongoing maintenance costs compared to, say, a dam." She also noted that although this project seemed like a small thing: reopening streams for fish passage was complicated, expensive, and highly engineered and it took a lot of effort by a lot of people to bring it off.
"In some ways," Ulbrich said, "it is the story of a small Maine town coming together and showing real leadership and initiative in taking on two fish passage restoration projects that are leading the way for eventual restoration of a whole river watershed, and which will have real and beneficial impacts on Penobscot Bay and Gulf of Maine."
Both sites are lovely and peaceful. Go visit them. Pierce's and Wight's ponds invite walking the surroundings, boating, fishing, and peace of mind.