B A C K T H E N

Schooner James A. Webster
Schooner James A. Webster Deck View Passengers relax on deck. Living conditions aboard the old schooners were basic—fresh water was carried in casks on deck—but that was all part of the charm. For young single women, in particular, dude cruising offered an economical taste of seagoing adventure without danger of seasickness or having to fend off the obnoxious mashers infesting conventional resorts.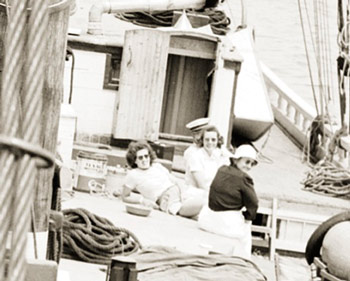 The business extended the active lives of a number of vessels, but as it was cheaper to buy another schooner than to pay for major repairs, for most it was but a brief reprieve from the final mudbank. The Webster was soon shifted to Long Island Sound, perhaps to be nearer to the source of single secretaries and school teachers, but lasted in business there only a season or two. The "windjammer" fleet on Penobscot Bay, however—the term "dude schooner" is passé—not only survived but eventually thrived, both with rebuilt relics and, beginning in the 1960s, the addition of several fine new vessels.

The Webster's raised poop and stanchioned fly rail, a common feature of larger schooners, was unusual for a two-master.

Text by William H. Bunting from Maine On Glass. Published by Tilbury House Publishers, 12 Starr St., Thomaston, Maine. 800-582-1899.
Maine On Glass and prints of the photographs are available through the Penobscot Marine Museum: PenobscotMarineMuseum.org.