F R O M   T H E   C R O W E ' S   N E S T
A Means To Avoid Disaster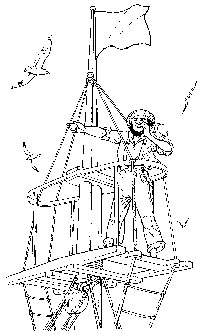 The lobster fishery has been the healthiest and most reliably profitable in northern New England in recent decades. It is by no means without problems to be addressed. Limited entry, transferable rights, health threats and political gamesmanship are just a few.
The introduction of non-native species to supplement the herring bait supply may be the most identifiable wild card threat to the lobster resource. The impacts of invasive species in North America form a long list of ecological problems that did not begin with the recent green crab in Maine.
As present and pervasive as animal predators can be, the invasion by microscopic marine animal viruses can produce disaster on the science fiction scale.
Competition for herring to supply lobster bait and other markets is increasing. Most of the herring caught in the Gulf of Maine is by mid-water trawlers, long criticized for their impact on herring and other species. Bait is the largest consumer of herring in the GOM. There are other consumers, who, since they don't pay for it, haven't always been listed in the user equation, and there are the many species who depend on herring for forage. The less herring they get, the less of them there are.
The federal government is currently considering listing alewives, also called river herring, as an endangered species. To the south alewives need help. In Maine alewife harvesters, citizens and the DMR have encouraged, protected, and preserved the alewife resource as has no other east coast state.
In spite of the remaining negative impacts of dams, chemical runoff, and waterway obstructions, Maine alewife populations have continued to grow. That could all stop with a federal listing. No one would be allowed to do what they have been doing for so long to restore alewife habitat while a lumbering federal bureaucracy goes into bog-down mode with its new jurisdiction.
What the feds could do is see that river herring are not fished on by midwater trawlers. They could speed up the removal of unused dams, help build fishways that bypass dams and support what Maine is already doing.
These are practical solutions that will rapidly unleash the potential of this once very abundant fish to provide lobster bait, forage for many species, and a means to avoid an invasive viral disaster in Maine's largest commercial fishery.