Pilley House – Best Little Museum
in Maine
by Tom Seymour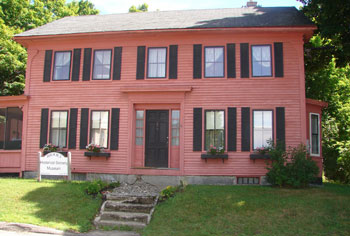 Betty Littlefield has given over her free time to tending, arranging and planning historical exhibits at the Pilley House, home of Brooks Historical Society on Route 7 in downtown Brooks. The house, deeded to the society by Bob and Lee Elliot, houses an extensive collection of everyday items from the community's past.
Littlefield, in fact, is single-handedly responsible for the society becoming owner of the circa-1818 house. Soon after formation of the historical society in fall, 2003, Littlefield noted that when Louise Pilley, last family member to live in the house, died, the estate became property of Robert Elliot, "Bob" of the Bob and Ray radio show fame.
Acting on a whim, Betty Littlefield on March 22, 2005, wrote Elliot, asking if he would consider bestowing the Pilley House to the Brooks Historical Society. He considered the move and replied in the affirmative in a letter dated March 29, 2005. And on June 2, 2005, the society took title of the Pilley House.
At that point, the society had to act quickly. Members and other volunteers spent many hours cleaning, sorting and getting ready for the opening of the museum. The framed correspondences between Littlefield and Elliot hang on a wall in the house next to a photo of Bob Elliot and his wife, Lee.
Betty Littlefield was asked to become president of the society and, of course, she acquiesced. And today, the 86-year-old Littlefield devotes much of her free time to adding new exhibits and conserving existing ones. The rest of her available time is spent writing books of family genealogies, hooking rugs and wall hangings and tending her own personal collection of antiques in her Brooks home, just a few doors up the road from the Pilley House.
Betty Littlefield is a true dynamo, with a seemingly boundless amount of energy. But as she says of her work for the historical society, "If I didn't do it, who would? We have so much history to save here."
Littlefield also composes and publishes a Brooks Historical Society calendar, filled with vintage photographs of people and places of days long past. These are available at the museum and also in stores in the area.
Historic Treasures
Much of what is on display at the Pilley House is on loan from contributors. But a good portion of the collection was found in the house, and dates back to the various people who lived there. Built in 1818, it is one of the oldest houses in Brooks. And it has a history to show for it. The first United States Post Office in Brooks, Maine, begun in 1819, was located in the house. Phineas Ashman, the first postmaster, lived in the house, which was a popular gathering place for people from miles around.
When the American Civil War rolled around, the house became the property of the station agent for Belfast & Moosehead Lake Railroad. The agent later married Mary Rose, whose parents owned a rooming house in Brooks. Interestingly, the Rose House sign was recently acquired by the Brooks Historical Society, and now hangs on the wall in the first room in the house, next to an elaborate display of old medicines and pharmaceuticals from the old drug store in town.
In addition to cataloguing items and soliciting the loan of local antiques and other treasures from the community, the society had to acquire display cases for their exhibits. Again, the community outdid itself, and now wonderfully-wrought antique display cases hold cherished collections of everything from antique button displays to hand-drawn postcards from a bygone era.
According to President Littlefield, visitors from not only Brooks, but from all over Maine, make the trek to the little Waldo County town in order to see the museum. In fact, the society and museum were featured Bill Green's Maine television show.
Littlefield says that it takes a minimum of two hours in order to fully digest everything the museum has to offer. Some visitors stay far longer, enthralled by the collection.
The society has devoted different rooms in the Pilley House to housing different exhibits, and different themes. The military room contains not only uniforms worn by Brooks residents while in the armed services (considerable Civil War memorabilia is housed here), but photographs, newspapers and even a soldier's trunk.
On display in the children's room, upstairs, are children's clothing, cradles and more. Part of what makes this, and the other displays so alluring, is the human connection. Betty Littlefield can rattle off the names of people who wore a certain item of clothing, and even who was rocked in the wooden cradle as an infant. The museum brings a kind of continuity to the public view. The past is gone, but not long gone. Portraits of 19th-century Brooks residents show physical features observable in people living in town today. Nearly everything has a name associated with it, usually a name that still belongs to Brooks residents of today.
While some of the museum's displays date back nearly 200 years, others are from the mid-20th century. For instance, three generations of women have cooked, baked and ironed in the kitchen. And everything they used remains there, from a 1950s electric toaster, to original examples of Bon Ami soap and cans of Savarin coffee. Middle-aged and older visitors will certainly feel a tinge of sentiment upon entering a country kitchen setting such as they may have enjoyed in their childhoods. Younger people, too, can learn what their parents experienced, through the various displays and exhibits.

Bob and Ray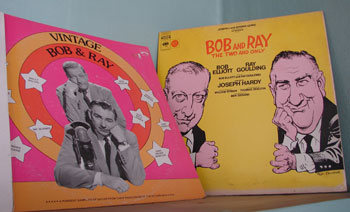 Of course the museum houses a collection of memorabilia from its benefactor, Robert Elliot. One display houses records, books, posters and other items from the Bob and Ray radio days.
Elliot was a noted radio performer for more than 30 years. The Bob and Ray show was inducted into the Radio Hall of Fame in 1995. Elliot also appeared in movies, including several where he shared billing with his son, Chris Elliot. Both Elliots spent many happy summers at the Pilley House.
Although Bob Elliot lives out-of-state, he continues to make the pilgrimage to the family home each summer. Elliot told Betty Littlefield that he is very pleased with what she and the other volunteers from the society have done with the ancestral home.
Littlefield noted with obvious satisfaction that she and Elliot have a common ancestor in William Pilley, a Brooks resident of many generations ago.
Saving History
Betty Littlefield said, "A town loses all its history if it doesn't have a place for it to all come together. It's long overdue, but now we have a place." She added that she and others in the society are still learning how to preserve the antiques and archival material entrusted to their care. "We made the first step, though, by installing ultraviolet -resistent storm windows." These windows do not detract from the simple beauty of the original windows, with their wavy, pressed glass. But they do stop the sun's rays from damaging valuable antiques.
"We recently received a grant so that we can expand," Littlefield said. The shed area, which was in a visible state of disrepair, was badly in need of restoration. So with a Davis Foundation grant, volunteers were able to replace roof boarding and shingles. They also constructed a replica shed and these now contain sleighs, farm implements, ice cutting tools, blacksmith tools and carriage-making equipment.
Anyone interested in history, not just the history of Brooks, owes it to themselves to visit this museum, with its extensive collection of items from the area's past. This museum hosts one of the most comprehensive groups of antiques and relics from everyday life to be found in Maine.
The museum is open in season by appointment. Also, the society hosts open house days at three different times during the year. Frequently, these feature special themes.
To schedule an appointment or to learn the date of the next open house, call Betty Littlefield at 207-722-3633.