Making Something Work That Really Shouldn't: Fishermen's Co-ops from New Hampshire to New Jersey
by Sandra Dinsmore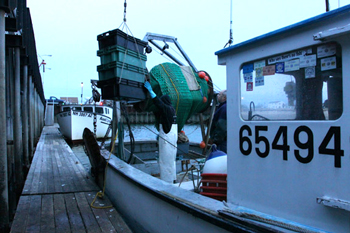 Maine has many more fishermen's and lobstermen's co-ops—19—than any other state from New Hampshire to New Jersey and even more than Nova Scotia, which, with 16 co-ops, has more than the rest of Atlantic Canada. Several East Coast states have one or two co-ops, and one has none. Some of these co-ops were carefully planned, but the Pigeon's Cove Fishermen's Co-op, in Rockport, Massachusetts, came into being through pure happenstance.
A year after about 30 Pigeon's Cove fishermen and some recreational boaters, with the help of public donations, bought a wharf for waterfront access, they found themselves in possession of a business and a building on their property. The owner of a lobster company that had been on that wharf for decades and a man all the fishermen liked had declared bankruptcy. He simply walked away, leaving his building and everything in it behind.
"So we were left with a lobster company," said Pigeon's Cove co-op member Robert Bob Morris. "We were left with a building. We didn't want it," Morris said. "We wanted—" Morris stopped then said, "Charlie Fields was the gentleman's name. He was a great friend and everything, but he walked away, leaving us that. So the boys said, 'What the heck are we going to do?' Thus was born the idea of having a co-operative."
The fishermen filed in 1994 and have very simple rules. They must commit the entire catch to the co-op minus anything for family and they must handle the catch properly.
Although they started with all kinds of seafood, a hired manager, and hired help, the fishermen found themselves in the red. Today, the co-op is member-owned and operated except for one employee, Morris's daughter-in-law, who writes the checks and takes care of the payroll and fuel. Everything else is pretty much automated.
"We have an automated fuel tank," Morris explained. "Each fisherman takes out his own catch, which is under 24/7 surveillance with high-tech cameras. It's, of course, to keep people in check. There are cameras on the scale, cameras on the individuals, which is being recorded all the time in the main office. There is no hired help. The system is streamlined: you come in, and it only takes fives minutes to unload your catch. The cameras also help if somebody misses something or forgot to write something down. You just simply re-wind and check that out.
"The reason we are where we are today is because we simplified [the system]. It's as simple as it can get. It actually works: [we] minimized expenses and maximized profits. We still suffer some aggravation on things we feel we should never be worrying about or have to deal with," he admitted, "but all in all, we have quite a remedy for making something work that really shouldn't."
Heading down the coast from Maine, the state of New Hampshire has but one fisherman's co-op, the Yankee Fisherman's Cooperative Association in Seabrook, which was formed in 1990. Bob Campbell, manager, and president of the board, said its 61 members fish groundfish, tuna, shrimp, and lobster. The co-op has a presence on the Internet.
Massachusetts's other fishermen's co-op, the Boston Harbor Lobstermen's Cooperative, Inc., in South Boston, filed in 1984. President Steve Holler, who has been a member since 1987, said it has 25 boats and a waiting list of other lobstermen who have to wait until a member retires. "A lot used to longline cod," until government regulations made them quit. "They wanted to get rid of us," he said, "and they did."
Connecticut appears to have two fishery co-ops: the Noank Aquaculture Cooperative, in Noank, which filed in 2000, and the Thames River Seafood Co-op, LLC, in New London. There is also the Southern New England Fishermen's Association in Stonington, but it is an association, not a co-operative.
The Noank Aquaculture Co-op, said manager James Markow, is a farmers' co-op with "a shellfish hatchery and processing area open to members who would otherwise have no shore access to facilities." Its oysters are grown in Fishers Island Sound, just south of Mystic, CT. Markow said there are about 10 members. "It comes and goes," he said of membership. "You get people with the illusion ... there are a lot of people with illusions." Because the co-op operates a seed hatchery, members can buy their seeds through the hatchery and then sell their product through the co-op, which charges 2 percent to take care of the infrastructure of the co-op and takes care of the billing and supplies. The problem, Markow said is that members are neither fishermen nor farmers. "Things that apply to either, don't apply to us."
Thames River Seafood Co-op, LLC, according to David Simpson, at Connecticut's Department of Energy and Environmantal Protection (DEEP) Marine Fisheries Division, "..is a group of boats that located at the State Pier in New London a few years ago." He added that these fishermen appeared to be, "mostly boats formerly from New Bedford." Google refers to the Thames River Seafood Co-op as "a joint venture between the State of CT and local commercial fishermen to provide dockage and other port facilities." Although calls to the co-op were not returned, Markow, of Noank, said he was aware of a couple of draggers working out of the Thames co-op.
Rhode Island used to have the Point Judith Fishermen's Co-operative, though it is now privately owned. Ocean Marine Insurance Agency, Inc., which insures commercial fishermen, helped create a co-op of sorts in Point Judith called the Point Club.
Kris Boehmer, who used to come to Stonington, Maine's Fishermen's Day to talk about safety and insurance, now owns part of Ocean Marine Insurance Agency. The Point Club, Boehmer said, "was a self-insured risk pool that was founded in 1986 by a bunch of Rhode Island fishermen, the majority of whom were members of the Point Judith co-op. ... Roughly speaking, I think there were about 70 boat owners and a couple hundred crew and insureds. Each boat owner took some risk himself. If [the Point Club] didn't raise enough premium, to pay claims, the members would actually have to pay in later on as a call.
And what Ocean Marine Agency did is set up re-insurance, so if the club had a very bad year, and we had too many claims, the re-insurance would then pay the remaining amount of the claims so the members wouldn't have to pay additional premiums or be put out of business." He said in the last 10 years, an English company, Sunderland Mutual Insurance Co, has taken all the risk. Point Club president Fred Mattera explained that about 50 vessels are now insured with several types of coverage: Hull and machinery protects the vessel and, obviously, machinery. Protection and indemnity protects the fisherman from injury and death. Coverage is based on a combination of what the insured thinks and what the vessel surveyor thinks is the value of the machinery and/or the vessel. (When the insured does not agree with the value given, Mattera said the surveyor usually wins.)
New York State no longer has any fishermen's co-ops as such. However, according to John Scotti, of Cornell, when the Fulton Fish Market moved to Hunt's Point and set up its $86 million facility in 2005, it became The New Fulton Fish Market Co-operative At Hunt's Point, Inc., a co-op of 34 wholesale fish dealers. A branch of the Noank Aquaculture Co-op also opened in Southold, NY in 2003. It grows oysters, hard clams, and bay scallops in the Peconic Bay Estuary.
New Jersey has two fishermen's co-ops: Belford Seafood Co-op. in Belford, which filed in 1953, and the Fishermen's Dock Cooperative in Point Pleasant Beach, which also filed as a co-op in 1953 and which now has 12 or 13 members. The Belford co-op, according to manager Joe Brennan, has 19 active and 10 retired fishermen who are primarily trawlers.
For those interested in the history of lobster and fishery co-operatives, in 1980 the National Marine Fisheries Service [NMFS] under the US Department of Agriculture, compiled a 24-page paper titled Fishery Cooperatives, which included a list of 102 active co-ops. Of those 102 co-ops in 1980, about 70 were operating actively. They varied from less than 5 years to 67 years. In 1980, only 5 percent of US fishers used a co-op to market their fish. Fisheries co-operatives were clustered in Maine, California, Washington, and Alaska. Maine had the largest number of co-ops in the country.
For more information on vessel and other marine insurance contact Mattera at fm@nestco.necoxmail.com

A PDF of the NMFS 24 page Fishery Coops can be viewed here.